As parents in Singapore, we are lucky to be able to say that we live in a country where there is a playground in almost every neighbourhood.
Many of us are familiar with the typical playground set up of playhouses and slides, but there are actually quite a few playgrounds within our heartland neighbourhoods which dare to be different and push play and imagination to another level to give our children an exhilarating playtime experience.
Here are some heartland playgrounds which you might like to bring your kids to next time!
Montreal Green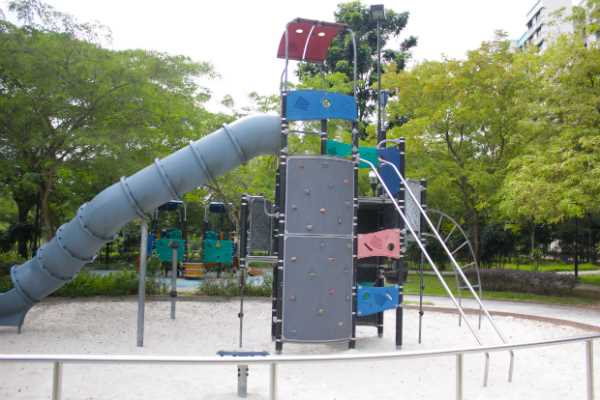 Montreal Green's playground is located at the junction of Sembawang Road and Canberra Link. This playground not only has slides and swings, it also has a sandpit for kids to build and sculpt castles, dragons or anything else they can come up with. In addition to the sandpit, Montreal Green also has some water features and a cool suspended rope bridge which swings across a kid-sized canal. The park is clean. With two separate playgrounds and a swing set, there will be no lack of activities for your kids here.
Getting there: The playground is located at Canberra Link in Sembawang, a short walk from the closest MRT Station.
Nearest MRT Station: Sembawang MRT Station
Servicing buses: Take service 167 from Sembawang Interchange and alight at the second stop.
Hindhede Nature Park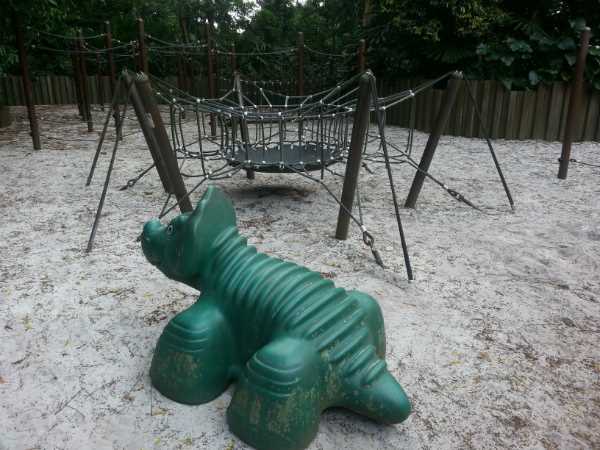 Next up is Hindhede Nature Park, which is a short trek from Bukit Timah Nature Reserve. The journey to the park itself is fun and gives you and your kids an opportunity to be close to nature. The park is green and very natural and even features a scenic quarry. Well defined walking trails make this park suitable for both the young and the old. The playground itself has many climbing features from rope domes to swinging bridges. Like little Tarzans, your kids will be able to swing, climb and hang from the various rope features throughout the playground. Do remember to bring ample refreshments to keep everyone hydrated.
Getting there: Located at the end of Hindhede Drive, there are limited parking spaces available at the foothill of the reserve. To minimise impact to the reserve, especially on weekends, you might like to take public transport instead.
Servicing buses: You can take any of these bus services 170, 67, 75, 171, 173, 184, 852 and 961. Alight along Upper Bukit Timah Road, opposite Bukit Timah Shopping Centre and Beauty World Centre, or along Jalan Anak Bukit, opposite Courts furniture store, and walk to the end of Hindhede Drive.
Bishan-Ang Mo Kio Park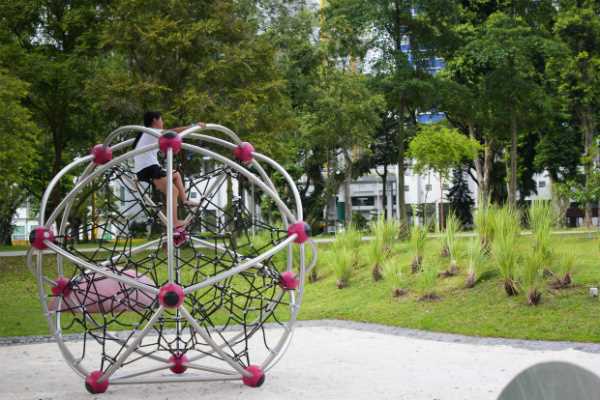 Your kids will be spoilt for choice at Bishan-Ang Mo Kio Park which has three separate play areas. The first is a water playground – always suitable for hot and sunny Singapore! The second play area is a large adventure playground, with logs and tree-houses and slides for your kids to climb and slide down from. The last play area is a giant sand pit with soft sand which is ideal for younger children. The highlight of this space is a digger which your child can operate – always fascinating for kids who love trucks, mixers, diggers and bulldozers! Bishan Park itself features a pretty river which runs down the entire length of the park and provides lots of chances to spot and identify small fish and river plants.
Getting there: The park is located along Bishan Road and Ang Mo Kio Avenue 1. It consists of 2 separate parks and stretches from the junction of Bishan and Ang Mo Kio to Upper Thomson Road.
Nearest MRT Station: The park is in between both Ang Mo Kio and Bishan MRT Stations, they're both about a similar distance if travelling on foot.
Servicing buses: You can catch Services 132, 133, 136, 165, 166, 169 and 262 from Ang Mo Kio, or services 50, 55, 58 and 410 from Bishan
Tiong Bahru Park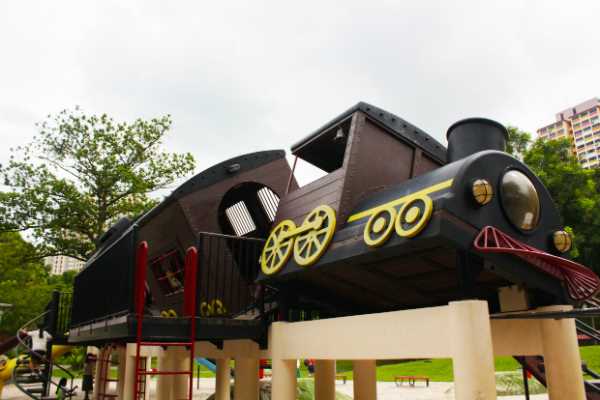 Imagine a giant train themed playground set in the middle of a park and visible from any entrance. This is what you get at Tiong Bahru Park. The train and its cabins are suspended above the sandpit by climbing structures and slides. The topsy-turvy train has plenty of room for more than 50 or so children to play in.
There's even a mini maze for the younger children to explore and run around in. Parents needn't worry about having to retrieve lost children from the maze as the hedges of the maze are carefully kept below waist level allowing every parent to see exactly where their active explorers are.
Getting there: Located at Tiong Bahru Road, the park is located within walking distance of Gan Eng Seng Secondary School.
Nearest MRTStation: A short walk from Tiong Bahru MRT Station
Servicing buses: Bus services 16, 32, 33, 63, 64, 120 and 851, the alighting bus stop is conveniently situated just outside the park.
Alexandra Canal Linear Park
Alexandra Canal Linear Park's special feature is a rope playground. The rope playground is a big hit with children of all ages and consists of rope bridges and tunnels for endless climbing fun. The ropes are strong enough to support adults so parents can get in on the fun too -afterall, you can never be too old for a good climb!
There are a total of 5 playgrounds along this long and winding park which follows a canal. Starting with the rope playground; you can make your way down the path towards Queenstown to a few other unique playgrounds including some which feature a trampoline, a gondola bridge and a pair of squiggly tubes that work like telephone lines and carry sound from one end to the other.

Getting There: The rope playground is a short walk from Block 83, Strathmore Avenue in Queenstown.
Nearest MRT Station: Walk along Strathmore Avenue from Queenstown MRT Station and you'll be able to locate Block 83.
Servicing buses: You can take bus services 51, 111, 145, 186 or 970 and alight at Queenstown MRT Station.