Nestled amongst the lush greenery on our island are our reservoirs – all 17 of them. Some of these man-made water bodies are an oasis of calm while others are a hive of activity. But what they have in common is their function as one of Singapore's four sources of water, collecting rainwater on a large scale to meet our daily water needs.
Many of these reservoirs have been serving dual roles as parks and recreational spaces for Singaporeans from all walks of life, from families to nature enthusiasts to water-loving athletes. With World Water Day falling on March 22, it's time to turn the spotlight on some of our island's most beloved spaces for fun and respite.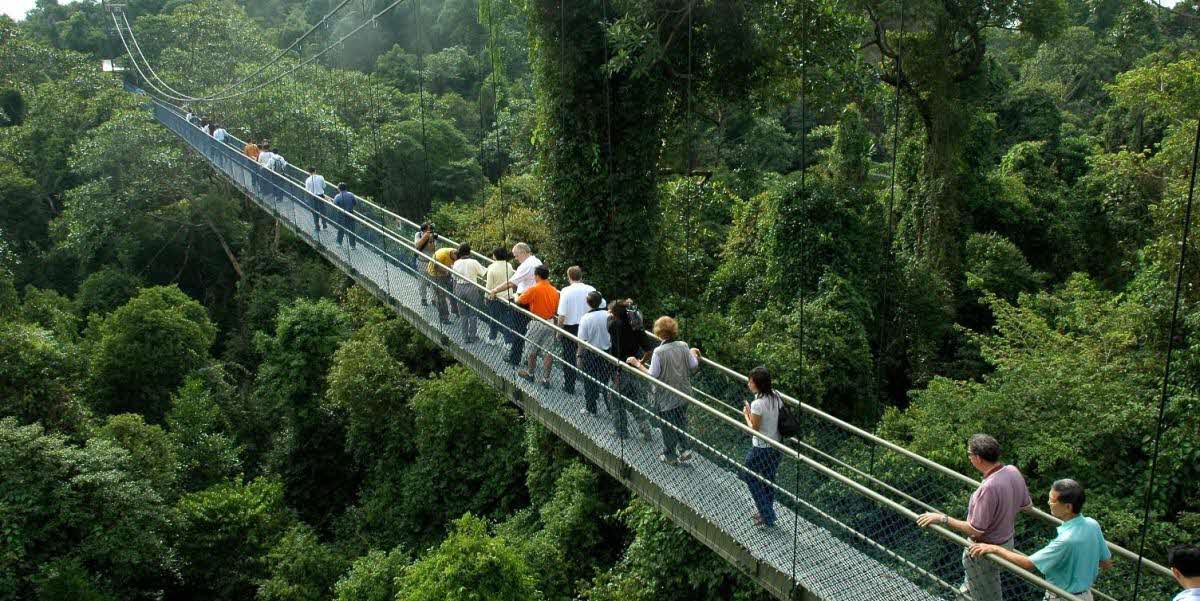 Image source: NParks
Named after James MacRitchie, the municipal engineer who designed and built it, Singapore's oldest reservoir is also part of our Central Catchment Nature Reserve. Known for its biodiversity, the reserve is popular with nature lovers, cross country runners as well as those simply looking for some peace and quiet.
If you're a family who wants to get close to nature, you'll love its forest trails, boardwalks and TreeTop Walk with a 250m aerial free-standing suspension bridge.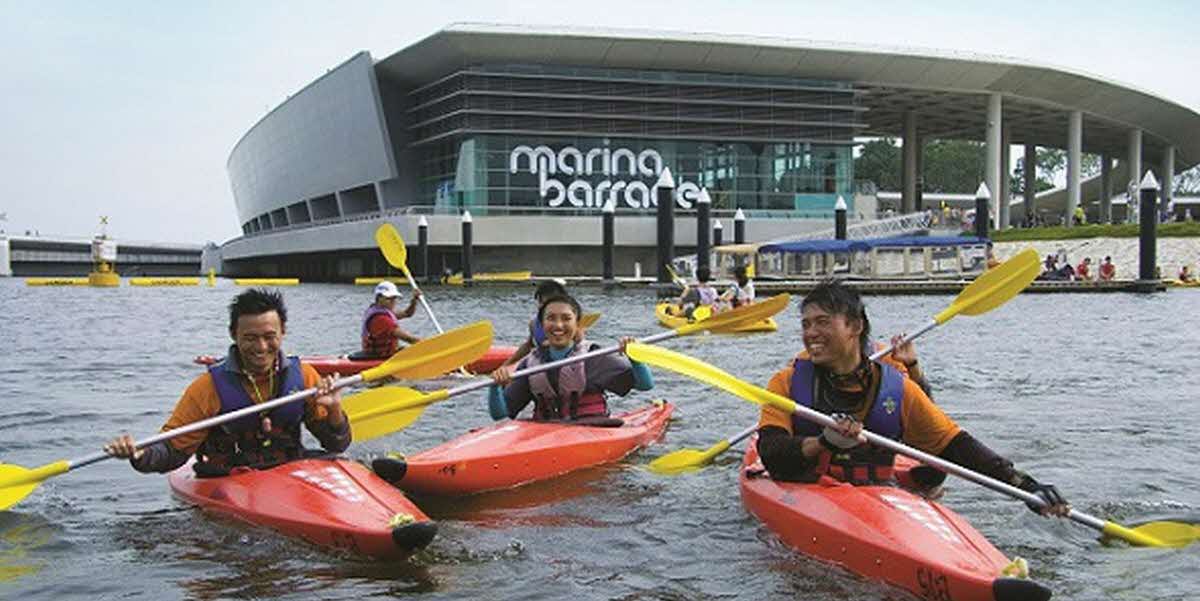 Image source: PUB
Located right in the city centre is the Marina Barrage & Reservoir. Building a dam across the mouth of Marina Channel to create a reservoir was the vision of Singapore's founding Prime Minister Lee Kuan Yew, but only realised in the 2000s when the engineering technology became available.
As the island's largest reservoir, the area often plays host to a range of water activities such as canoeing, kayaking and dragon boating. The open-air barrage is also a favourite spot for kite-flying and picnics. Families can check out the Sustainable Singapore Gallery to learn about how to create a liveable and sustainable Singapore.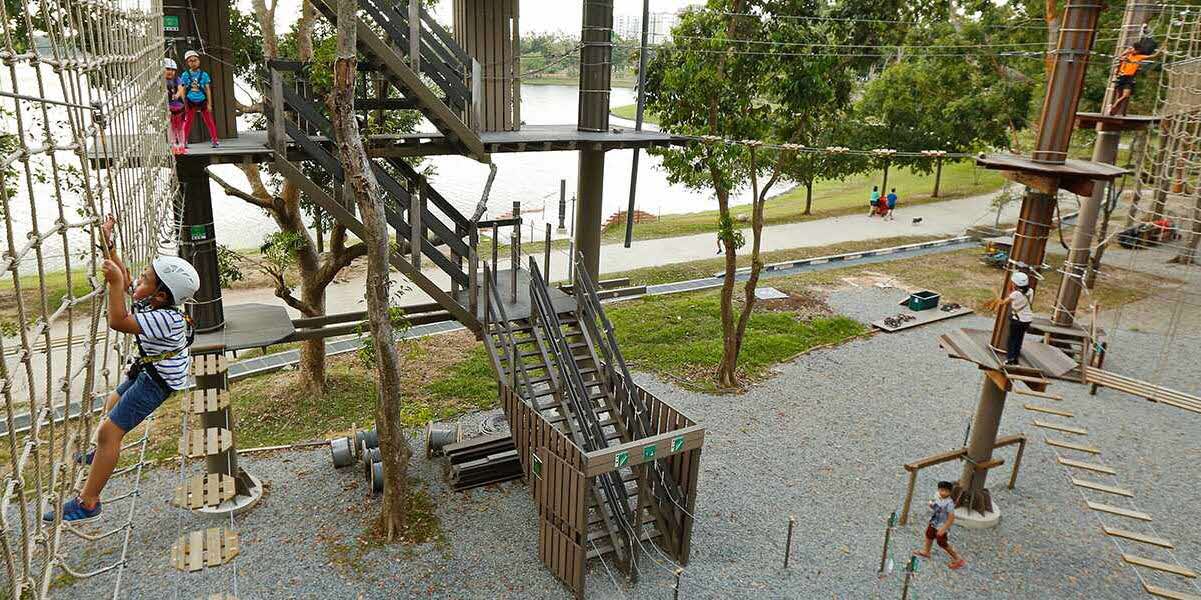 Image source: Forest Adventure
Formerly a sand quarry, this familiar catchment area located in the east is bustling with life. Not only is it a preferred venue for waterskiing and wakeboarding, but you can also rent kayaks and canoes for some rowing fun.
Families with kids looking for adventure will love the series of obstacle courses comprising of bridges, swings, nets, trapezes and slides at Forest Adventure – including a flying fox across the reservoir!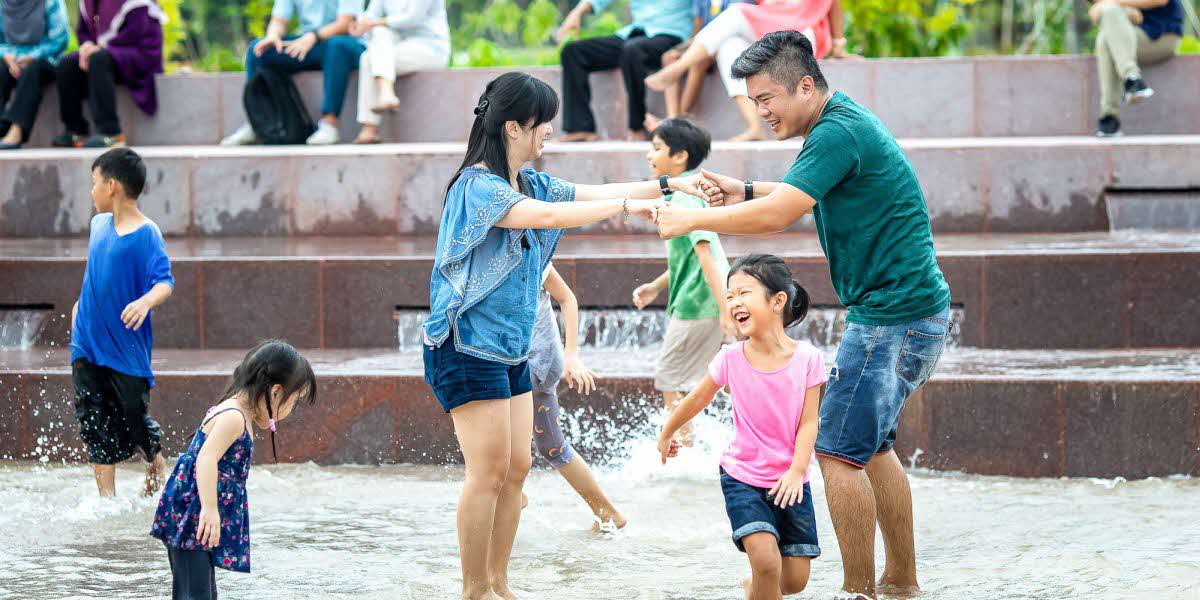 Image source: NParks
This gem of a reservoir in the west was recently redeveloped as part of the upcoming Jurong Lake District. The grounds are home to attractions such as Chinese and Japanese Gardens,which are currently undergoing rejuvenation and expected to open from 2023 on.
Families will find lots to see and do, from exploring the golden fields of The Grasslands to wading through tidal play pools at Clusia Cove. Kids especially will have a whale of a time at the Forest Ramble, the largest nature-themed play space in the heartlands filled with slides, swings,suspended bridges and miniature trampolines. Look out too for nature trails, events and programmes that are part of the regular programming at the park.