Growing up in Singapore, nothing chronicles our childhood more than the playgrounds we frolicked in. Not only are they spaces for having fun, but playgrounds are also important for children to develop their physical abilities and socialise with other kids.
Many of the playgrounds we see on our island today are specially designed by the Housing and Development Board (HDB). They depict the local heritage of the neighbourhood they are found in and reflect the era when they are built.
Let's take a journey back in time to find out how these beloved spaces which captured our young imaginations have evolved over the years.
The early playgrounds (1950s to 1970s)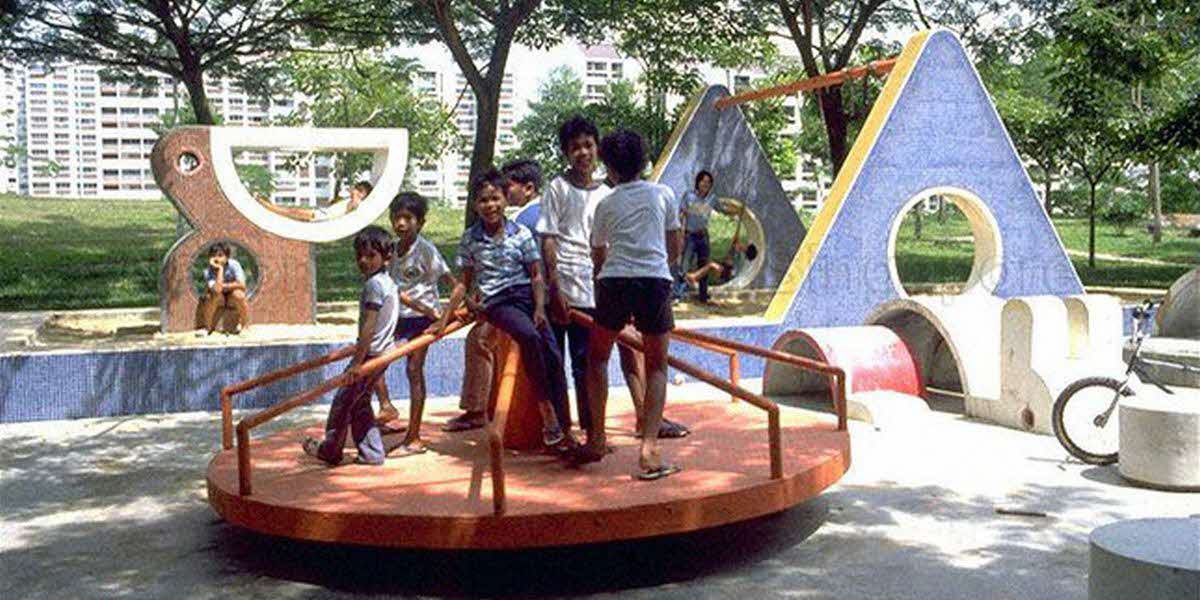 Image source: Roots.gov.sg
Remember the iconic dragon playground in Toa Payoh? Well, we have Khor Ean Ghee, Singapore's first playground designer to thank for that – as well as many other distinctive designs. Before HDB hired him, early playgrounds consisted of standardised swings, seesaws, and a merry-go-round.
Trained as an artist, Khor infused playgrounds with unique identities inspired by legends, local fables and nursery rhymes, featuring dragons, sampans, mousedeers, Chinese pavilions and Malay stilt houses. Many of his design blueprints went into a catalogue for HDB architects to refer to when planning for new neighbourhoods.
Themed playgrounds (1980s)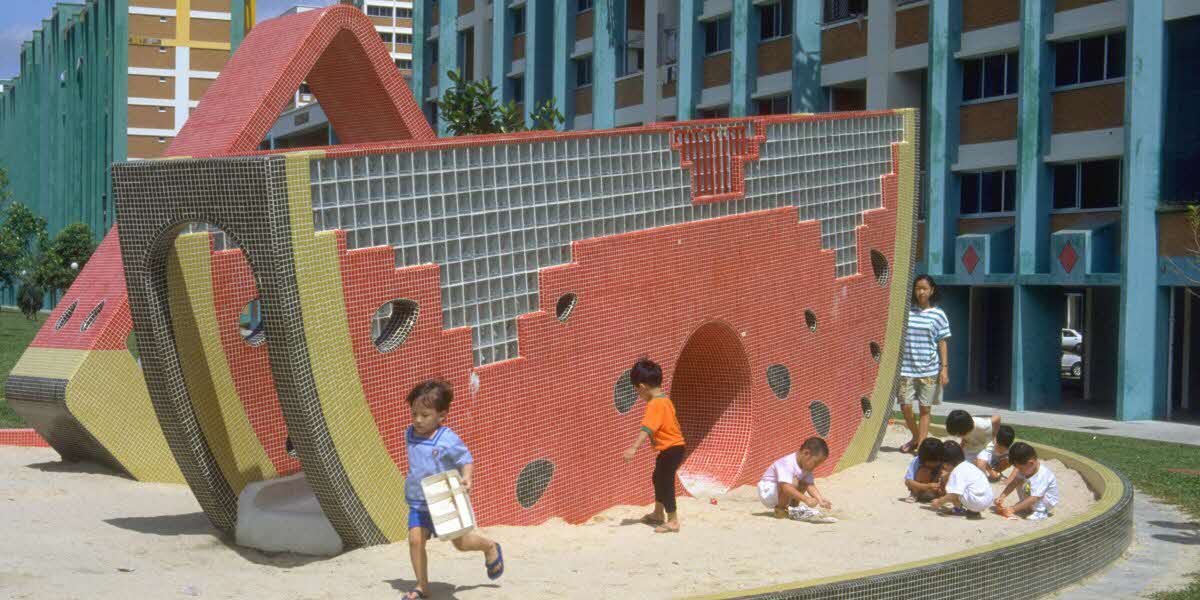 Image source: Atlas Obscura
Children growing up in the 80s will remember play spaces imaginatively designed in the form of tropical fruits, with larger-than-life watermelons and mangosteens rising out of sand beds. Maria Boey is the landscape architect and urban designer who was responsible for Tampines town where these playgrounds are found. According to her, playgrounds during that period were constructed to meet higher safety standards and "play values", with climbing or sliding equipment and manipulative elements.
Modular play structures (1990s to 2000s)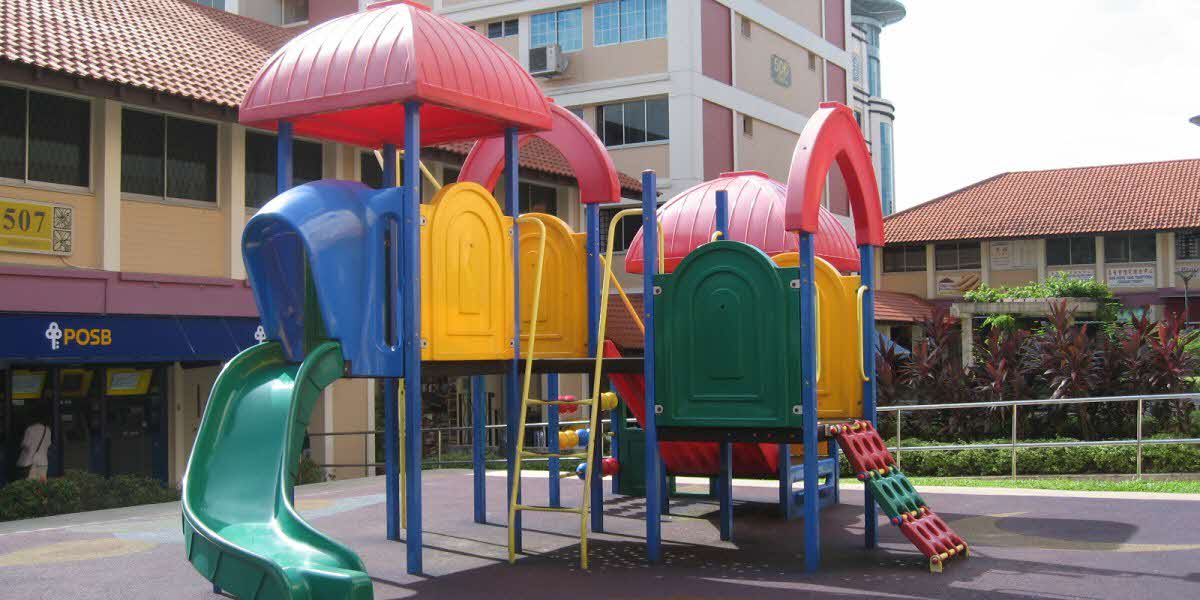 Image source: Mothership
The 90s brought with them colourful playground structures built to strict safety specifications set by Spring Singapore. No longer constructed by HDB, these playgrounds were designed and constructed by private companies and took on a more uniform, modular look. Rubber flooring replaced sand and mosaic tiles, and play equipment became more varied with space nets and fitness facilities incorporated into the same space.
Mega playgrounds (2000s to now)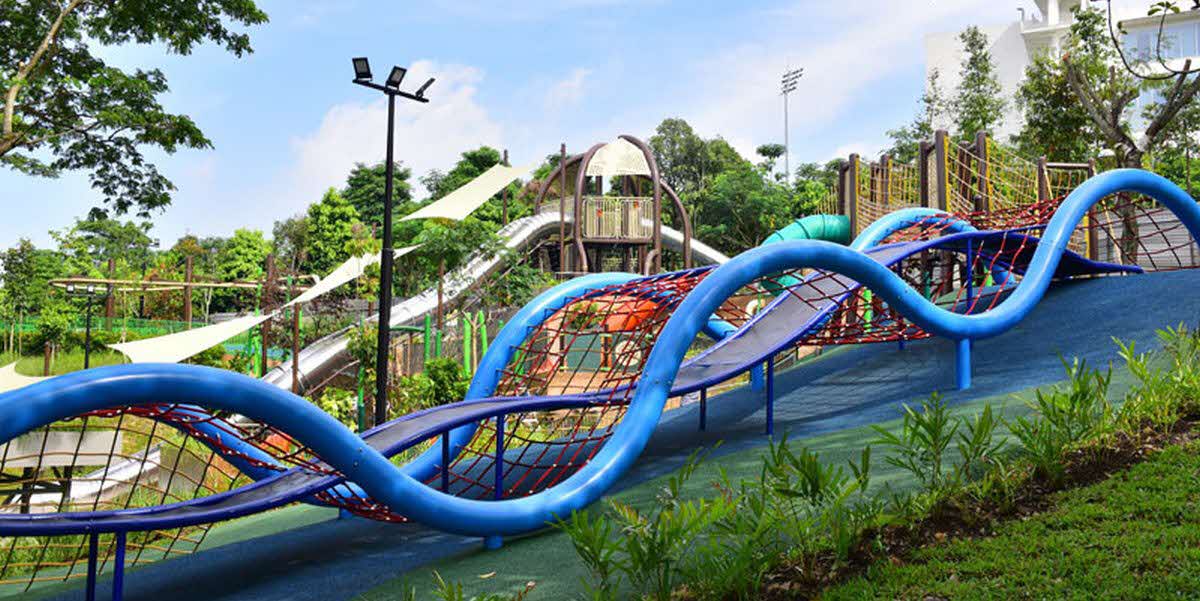 Image source: NParks
At the turn of the millennium, massive outdoor playgrounds started sprouting up at different corners of Singapore. Boasting challenging rope pyramids, flying fox swings, giant slides, trampolines, treehouses and water play areas, these recreation areas are every child's – and parents' – dream! Many are located in lush parks, near eateries, and are separated into dedicated play areas for kids of different age groups.
Adding to the formula for fun are indoor playgrounds located in air conditioned shopping malls and community spaces. With such a high density of playgrounds concentrated on an island of just 724 square kilometres, you'll definitely be able to find a play space to suit everyone!