Starting off as a sleepy fishing and farming village before the first public housing flats were built in the 1990s as part of the Punggol 21 plan, it stands today as a burgeoning ecocentric green town of the future.
Granted, it's still considered pretty "ulu" (Malay for remote) due to its location in the northern-most part of North-Eastern Singapore, but it's precisely this that adds to the neighbourhood's rustic charm.
Many new families now call Punggol home, and you can easily find other families to connect with at Families for Life events, since Punggol is a Families for Life Community (FFLC) town too!
As futuristic as Punggol may be, it is chock-full of natural sites that hold special significance to its past. Let's have a peek!
The Punggol Waterway and Waterway Park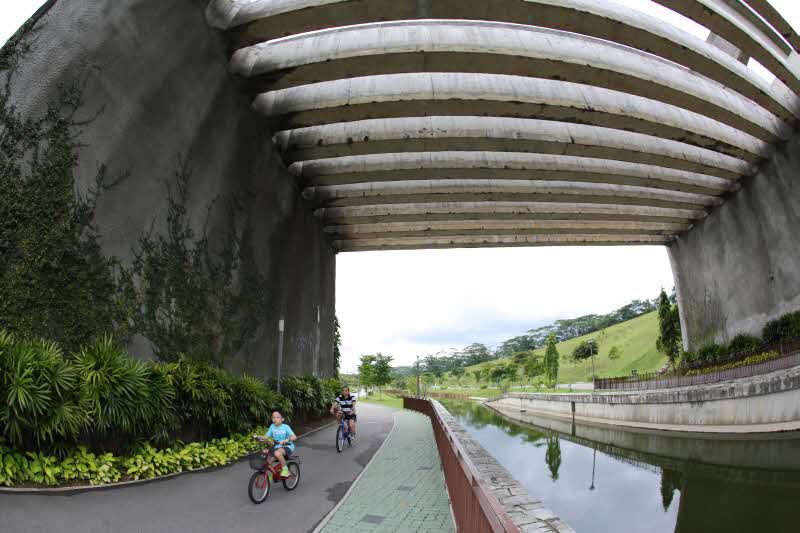 Image source: NParks.gov.sg

A man-made wonder in its own right, the 4.2km Punggol Waterway was built by the Housing Development Board (HDB) and meanders through the riverine Punggol Waterway Park along Sentul Crescent.
We strongly recommend checking out the park on bicycle, zipping around the Punggol waterway to explore the hood and soak in the calming scenic riverside views that are so-very reminiscent of its sleepy fishing village roots. Take it free-and-easy and rest up at the Waterway Point mall, or hit up key landmarks like the Jewel Bridge, Kelong Bridge and even the old trunk road with these planned trails of different lengths, ranging from two hours to half a day.
Coney Island Park
Image source: NParks.gov.sg

An island with a chequered history as it changed hands between businessmen, it was finally acquired by the government in 1972 and gradually expanded to its current size of 100ha via land reclamation.
Today, Coney Island is a beautiful rustic park, filled with swaying casuarina trees and coastal mangroves. Diverse wildlife call the island home, including the endangered black-crowned night heron and spotted wood owl, and many species of migratory stopping by - making the park a popular spot for bird-watchers. Even the toilets are rustic, powered with solar power and rainwater!
Punggol Beach
Image source: WorldBeachGuide.com

Walk right to the end of Punggol Point Park and you'll find yourself at Punggol Beach. Overlooking the Johor straits, visitors to the beach can take in the therapeutic sights and sounds of the sea. The view is especially beautiful at sunrise and sunset, and worth every kilometer of the bicycle ride out here.
The atmospheric beach with its eye-catching rocks of all shapes and sizes seems to be the perfect spot to relax away from the bustle of the teeming town of Punggol these days. However, history buffs will also know that it has a tragic past as one of the spots of the Sook Ching Massacre during World War 2. It's been designated a historical site today by the National Heritage Board.
Lorong Halus Wetland
Image source: Roots.gov.sg

With its lalang fields, crystal clear ponds and fields of white rocks, Lorong Halus Wetland is a coveted spot for those of us chasing photos for the gram and gorgeous sunsets.
This former landfill site stands today as Singapore's very first man-made wetland which also acts as a bio-filter to purify groundwater contaminated by the dump, before it flows into the adjacent Serangoon Reservoir.
Bonus tip: Taking the Lorong Halus park connector will lead you through the old Pasir Ris Farmway for a serious dose of nostalgia for Punggol's farm heritage!