Over the past decade, food is something Singapore has come to waste a lot of. According to the NEA Household Waste Study, the amount of food households chucked out in 2017 was equivalent to the weight of 3,500 MRT trains! Food wastage is now a fast growing concern among Singaporeans.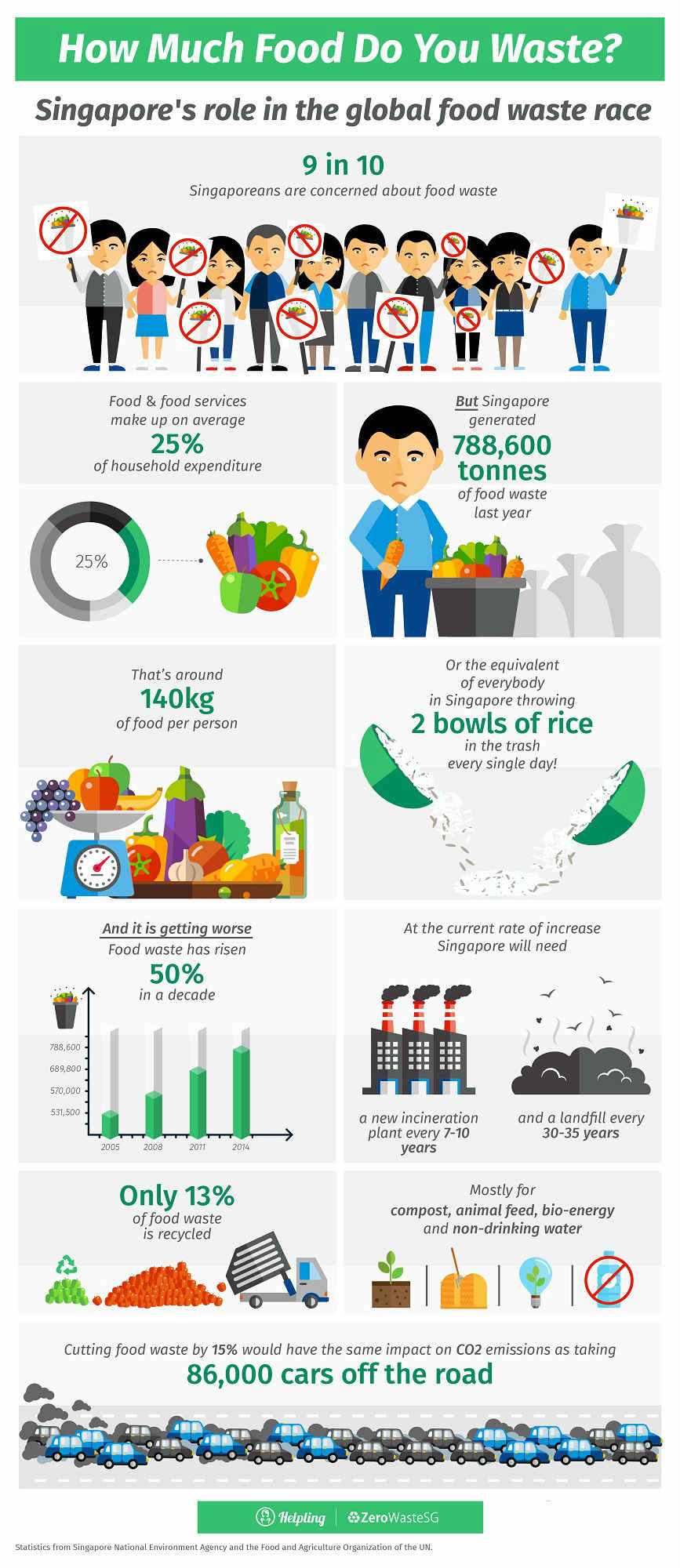 Image Credit: Helpling
In this age of excess and plenty, it is now more important than ever for parents to teach children the importance of "waste not, want not" as part of character building. Everybody eats, which makes food a great starting point for young ones to learn about frugality. Here are some fun ways you can cut food waste as a family:
Fact Collection Project
Get the young ones to do some research and find out why food waste is a problem, and what they can do to combat it. After they've collated the facts, have them pen down their thoughts and draw up a plan on reducing food waste. Stick the charts up on the fridge or family noticeboard.
Conduct a Home Food Waste Audit
Take pictures of food your family chucks out, noting the value of every item. At the end of the week, pool together pictures of all the food items thrown out, and tally up the total value of food wasted. Collect the 'wasted' money and save it in a jar.
Make It A Savings Game
In the weeks ahead, put aside every dollar the family saves from from cutting back on food waste in this money jar. This gives everyone an immediate visual reminder of how much they can save. At the end of the month, use the money saved to treat the family to something — a movie, or ice cream, for instance.
Instagram Your Family's #WasteNoFood Efforts
Make a digital collage of your family's efforts #WasteNoFood efforts. Post pictures of packed lunches and meals made with leftovers, ingredients that go into the week's meal planning, etc. Other than documenting your progress, it also seeks to spread the message to your friends and followers.
Take the #WasteNoFood Pledge
Make a pledge as a family to take steps to cut food waste. Using online samples as a starting point, personalise your family's pledge. It will help motivate members to stay committed to the project and objectives.
Start Planning Your Family Meals
Meal planning is one of the key steps in slashing food waste at home. There's plenty children can learn from meal planning, as it requires taking into account budget, nutritional needs, food preferences. With meal plan in hand, go on a family grocery shopping, where you can teach children how to pick the items and read nutrition facts labels.
Start a Home Garden
Growing your own food is a fun way for children to learn about self-sustainable living and how plants grow. Not only is it enjoyable to nurture something and watch it grow — it's even more satisfying to eat the fruit of your labour! Another spin-off project you could embark on using food scraps, is to make compost at home.
Create a Recipe Folder
Compile the 'leftover recipes' your family comes up with into a folder over the weeks. There are plenty of online tips and inspiration you can find on whipping up healthy meals from leftovers.
Cut food waste, save money, and together as a family, work towards reducing your carbon footprint!