Opening Hours:

Opens daily 8.30am - 6pm (Last ticket sale at 5.30pm)

Enquiry Hotline:

6265 0022
Jurong Bird Park is definitely the place to bring your kids if you have been thinking of a way to educate them about wildlife and the importance of conservation. The great number of activities you can do together as a family, as well as the many colourful birds here, will ensure that everyone has tons of fun!
We recommend that you head to the park just after it opens at 8:30 am as there is so much to see that you will need an entire day to see all the attractions. Alternatively, you can spread your visit over two different days so you have more time (and energy) to appreciate the sights. Click on the maps below to check out the two guides we've prepared for you, each is chock-full of unique touring and activity options.
Jurong Bird Park – Morning Excursion
This morning excursion will lead you on a featured-packed path right up to the High Flyers Show at 11am, and on to possible lunch venues nearby.
Start at the World of Darkness
As its name implies, this exhibit is full of nocturnal birds. Look out for the Snowy Owl, Barn Owl and Boobook Owl. Play a game to see how many of these birds you can spot – in the dark!
Heliconia Walk
Stop to appreciate the many different species of softbill birds; these are birds that eat nectar, fruit, insects and other such "soft" food are known as softbills! There are many softbills in the park. Try to see if you can find the Amethyst Starling, Gouldian Finch, Silver-Earred Mesia and Jambu Fruit Dove.
Lory Loft
Always popular and best visited between 9:30am to 10:30am for feeding time. Get up close and personal with the hungry but friendly lories and lorikeets. Purchase a cup of nectar from the nectar counter to feed the ever-hungry birds. Relax. Stand still and smile as the birds fly over to perch on your shoulders, hands and even your head! Get your camera ready for some photos of a lifetime!
High Flyers Show at the Pools Amphitheatre
Make sure you get here just before 11:00am when the performance begins. Feast your eyes on the colourful birds that do everything from fly-bys, to air deliveries and songs! Learn about the Hyacinth Macaw and the Great-Pied Hornbill. Ask your kids to pay close attention to the show presenters when they talk about why it is vital to care for our birds. Not to be missed of course, is the grand finale gathering of nearly a hundred birds chirping, warbling and squawking on stage.
Lunch
The Bird Park has a range of casual and child friendly eateries to choose from.
Bongo Burgers serves western food
Hawk Café serving local fare
Terrace Kiosk offering hotdogs and light snacks
Lory Loft Café with sandwiches and light refreshments
Songbird Terrace by the Flamingo Lake, if you feel like having a sumptuous Asian buffet with entertainment provided by some feathered friends from the Lunch with Parrots show!
Click to view and download our suggested morning guide, clearly marked out on the Jurong Bird Park Map, just for you. If you have time, do continue on in the park with our afternoon guide.
We know you will have a great time!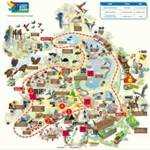 JBP Map 1 (Morning Route)
Jurong Bird Park – Afternoon Excursion
Our afternoon tour is just as fun as our morning tour. Get ready to see more beautiful birds moving freely within the Bird Park's large and airy aviaries.
Shore Birds Exhibit
Just before 1:15pm, make your way to the Shore Birds exhibit to see the Black Cormorants, White-breasted Cormorants and Peruvian Pelicans dive for fish. Feeding takes place daily. Your kids will be excited to see all the clever birds splash and dive for their afternoon treat!
Waterfall Aviary
Featuring the world's tallest man-made waterfall, this gorgeous cascade makes for a great photo backdrop. Look out for the endangered Sun Conure (or Parakeet), Yellow-billed Stork and Common Hoopoe. Award an ice cream prize to the first person to spot the elusive Crested Guineafowl!
Parrot Paradise
Here listen to the whistles and squawks of Asia's largest collection of parrots! Walk around the 32 aviaries to enjoy these intelligent, sociable and playful birds who always entertain with their acrobatic tricks. Spot these beautiful parrots: the Black Palm Cockatoo, Yellow-naped Amazon and Red-sided Eclectus, and say "Hello!"
Pelican Cove
Did you know that seven out of eight of the surviving pelican species can be found here? Remember to check out the world's first underwater viewing gallery for pelicans.
King of the Skies Show at Hawk Walk
Just before 4:00pm, make your way to the King of the Skies Show at Hawk Walk. Learn about the ancient royal art of falconry. Watch in awe as these majestic birds swoop down from the sky to seize their prey. If you want to learn more about this sport of kings, check out the 'Be a Falconer' programme at the park.
And there you have it, a day full of memories that will most certainly last a lifetime. Your kids will talk about this for years to come and they will remember that you were the one who introduced them to the Sun Parakeet and started them on the journey to understanding their environment and the wonderful birds that inhabit it.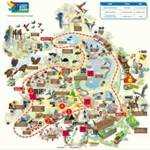 Adapted from an article first published on 28 Aug 2014 on Dads for Life Toolbox