Our wonderful tropical climate means that Singaporeans will always have a soft spot for water parks. From the days of East Coast's Big Splash and Sentosa's Fantasy Island to the currently popular Adventure Cove in Resorts World Sentosa, waterparks are a perennial hit with families.
In addition to these well-known private water parks, Singapore is also home to many public water parks which are not only exciting, but also very reasonably priced. So, if you're looking to beat the crowd and pay pocket-friendly fees for a water theme park, here are some of Singapore's public pools for you to go to cool off. Whether you are an adult or a child, you are bound to experience a great time at any of these parks below. So have a look at our list and get ready to slide down to any of these amazing pools this weekend!
Sengkang Swimming Complex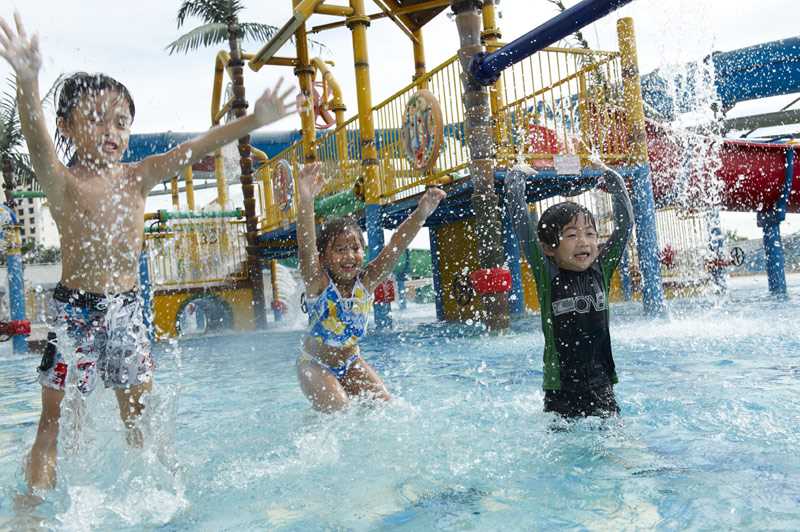 Located in the serene neighbourhood of Anchorvale in Sengkang, this swimming complex is part of the Recreation Centre catered to residents. Aside from the impressive array of facilities available at the Recreation Centre, what really draws the crowd to Sengkang Swimming Complex is their thrilling selection of 8 different slides. Yes, you heard it right! This public pool not only offers an Olympic-sized pool but a variety and multitude of slides guaranteed to get your adrenaline pumping if a couple of laps aren't enough to do the trick. The pools get fairly crowded over the weekends and are a hit with families as well as teenagers looking for more than a relaxing dip.
Where: 57 Anchorvale Road, Singapore 544964. Tel: 6315 3574.
Nearest MRT: Sengkang
Opening hours: Tuesdays to Sundays, 8.00 am to 9.30 pm (closed on Mondays, except public holidays)
Jurong East Swimming Complex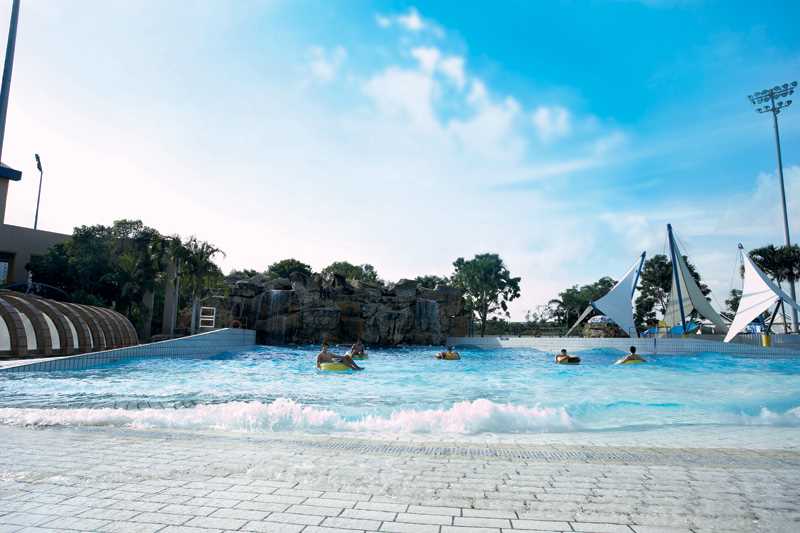 One of the biggest public swimming complexes in Singapore, Jurong East Swimming Complex was also one of the first public swimming complexes with a water theme park. For a public pool, it could easily be mistaken for a facility you'd find in an exclusive resort. The complex is massive and even comes with a lazy river of its own, perfect for lounge addicts. Thrill seekers aren't left out, with three slides atop a massive structure; Jurong East really does provide a bang for your buck.
Where: 21 Jurong East St 31, Singapore 609517. Tel: 6896 3566 / 6563 5052.
Nearest MRT: Chinese Garden
Opening hours: Tuesdays to Sundays, 8.00 am to 9.30 pm (closed on Mondays, except public holidays)
Jurong West Aquatic Centre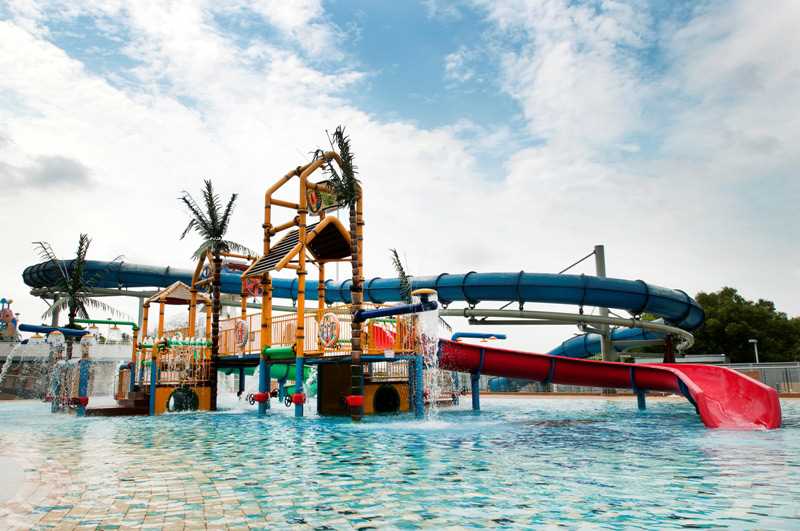 Residents in the west are lucky enough to have not just one, but two great public swimming complexes to choose from. The Jurong West Aquatic Centre occupies a huge space and no expense has been spared to ensure that the quality of the experience is maximised. The slides* are impressively high - although that means you will have to climb a flight of stairs (approximately 3 floors up) to enjoy the thrill (all worth it). However, if you do get tired after a few climbs, you can always take a break in their lazy river and drift aimlessly down their concrete creek. Jurong West also offers not one, but two Olympic-sized pools, one of which is sheltered so you can swim rain or shine.
*The blue slide is closed until further notice (as indicated on MyActiveSg website)
Where: 20 Jurong West Street 93, Singapore 648965. Tel: 6515 5332
Nearest MRT: Pioneer
Open: Wednesdays to Mondays, 8.00 am to 9.30 pm (closed on Tuesdays, except public holidays)
Pasir Ris Swimming Complex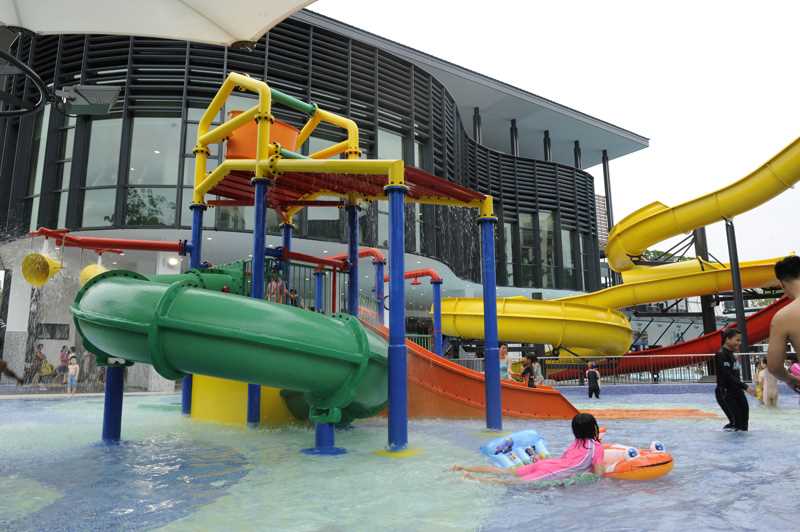 The most recent of the lot, Pasir Ris Swimming Complex is also in a Recreational Complex located conveniently beside White Sands Shopping Centre. To make things even better, it is also a stone's throw away from Downtown East, so if you're looking for a cheaper alternative to "Wild Wild Wet", this complex will be perfect for you. Although the swimming complex may not be the biggest, it is still perfect for families with young children. The children's play area is comprehensive and is a child's fantasy world of water features and gizmos. Adults can get in on the fun too by choosing between two different slides or joining their kids at the aquatic playground.
Where: 120 Pasir Ris Central, Singapore 519640. Tel: 6583 5523
Nearest MRT: Pasir Ris
Open: Thursdays to Tuesdays, 8.00 am to 9.30 pm (closed on Wednesdays, except public holidays)
Choa Chu Kang Swimming Complex

Out of all the complexes listed here, Choa Chu Kang Swimming Complex will probably suit families who are looking to have a relaxing afternoon instead of a thrilling one. Therefore if what you have in mind is a lazy day watching your kids indulge themselves in the water playground, this complex is ideal for you. Here, you'll be able to lounge in the wave pool and work on your tan while keeping your kids entertained all at the same time. There's also a fun slide that brings you from a height of 3 stories all the way down to a shallow pool on the ground. The slide doesn't promise as much exhilaration as the others mentioned on this list, but it does have its twists and turns – something which your younger children may appreciate.
*The Slide Towers are closed until further notice (as indicated on MyActiveSg website)
Where: 1 Choa Chu Kang Street 53, Singapore 689236. Tel: 6767 8606
Nearest MRT: Choa Chu Kang
Open: Tuesdays to Sundays, 8.00 am to 9.30 pm (closed on Mondays, except public holidays)
Planning Tip: Do check out MyActiveSg website to find out about facilities closure prior to your visit.