Many of us are caught up in the daily grind. To relax, we often sweat out the stress by playing sports. Sports not only help us unwind individually; it also fosters interaction and pulls the whole family together with shared participation. Persons with disability need not be left out. They can participate in many games too. Using the Tree Principle, games are made more disability friendly!
The Tree Principle
This is a basic principle for adapting activities to be inclusive
Teaching method
Rules and regulations
Equipment
Environment
You can adapt popular games like football, badminton and basketball for persons with disabilities. On the other hand, you can also engage in games designed for players with disabilities.
Boccia is such a game, a competitive sport played in the Paralympic Games. Practiced by people with cerebral palsy or related neurological disorders, Boccia is usually played in pairs or in teams of three. Players throw coloured balls as close as possible to a white target ball. The team that scores the most balls near the target wins.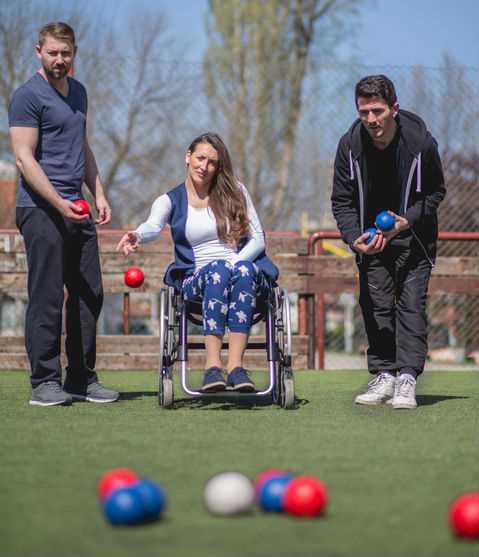 Playing Boccia at Home.
What you Need:
Boccia balls
Masking tapes
Hula hoops of various colours
How to Play:
Divide players into 2 teams.
Determine one team to throw the white target ball out on court. The same person who served will throw a colour ball.
Whoever is the closest to the target ball does not have to play. Instead, the team farthest throws their balls until they get closer to the target.
Come up with a defense strategy to block your opponents from getting close to the target.
Have fun!
Things to Note:
Make sure wheelchair users are securely strapped
Provide players with balancing problems a firm support.
Play against a wall to stop balls from unnecessary rolling.
Persons with disability need not sit on the sidelines. Picking up a new sport gets the whole family moving – together. After all, the family that plays together, stays together.