Followers of sisters five-year old Janessa and two-year old Janelle on Instagram account @the_little_pals are often treated to their adorable adventures around town as they explore familiar places and try out new experiences, all under the wings of their loving parents.
Their parents, Valerie Gnow, 35, and Prempal, 37, both engineers, were motivated to start the IG as a way of documenting their girls' growing up years as they transition from babyhood to independence. As a mixed-race couple bringing up a family in Singapore, they count themselves fortunate that their daughters are raised knowing both cultures and their traditions in a multi-racial society.
Learning through play and travel
As a hands-on mum who is not afraid of messy play, Vanessa tries to incorporate learning into fun activities for her two girls. Hands-on sensory play abound on their account, from creating their own erupting volcano to building a kinetic sand park for Janelle's toy animals. A favourite for Valerie is water play, which her kids can learn in many different ways - scooping, pouring and measuring.
As avid travellers, the couple tries to show their daughters as much of the world as they can, despite the challenges of long-haul flights and trying to pack light for two young children. Valerie and Prempal particularly enjoy experiencing the world with them – and seeing it through their eyes.
"Janessa remembers her trips quite well and it's a joy for us when she recalls her experiences", shares Valerie.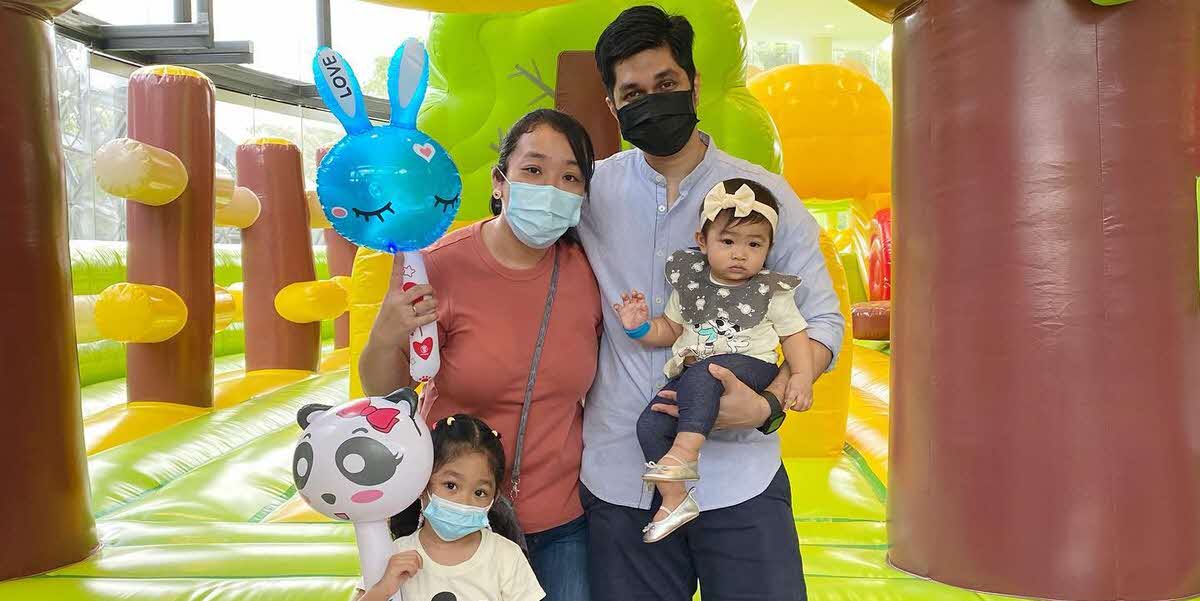 It's all about family
Becoming parents has been life-changing for Valerie and Prempal. They now see themselves as a team who put the needs of the whole family before their own. Valerie says, "When we make decisions, we are aware we no longer make them just for ourselves. Parenthood has definitely strengthened and brought us closer together as a couple".
For Valerie, it is crucial to know when to be firm and when to flex when it comes to parenting. Of particular importance to her is instilling the right values in her children. "I can be quite authoritative when it comes to values, as there are specific values that I want to instill in them.But when it comes to playtime, I am more permissive", she says.
Of course, family also extends to their other loved ones as well. With Mother's Day coming up, the girls will be busy making cards for grandma, even as the couple plan for a nice meal out with their extended families, with lots of photo-taking thrown in for memory-keeping.
When asked what family means to her, Valerie was steadfast in her reply: "My family is my everything. They are my pillar of strength, my joy and my motivation every day!"