The long-drawn pandemic has inevitably kept many families at home more. While keeping safe, a side effect of being indoors has been an increase in screen time for children.
While squeezing with the crowds is still a no-no, especially if your children are too young to be vaccinated, getting enough outdoor time is still paramount for healthy growth. Plus, studies have shown that outdoor time (exposure to sunlight) is key to keeping myopia at bay.
If the kids have outgrown the playgrounds in your neighbourhood, here are some other great options around the island you can consider. We dare say, you will have a ball at some of these outdoor playgrounds yourself!
Sembawang Battleship Playground
Located within Sembawang Park, which faces the Johor Straits, this famous battleship playground is a nod to the locale's history as a naval base for the British. Boys and girls alike can play out their wildest pirate adventures with the warship-like playground that has an upper deck, loads of nettings, poles and slides. Plus, it sits on a sandpit—bring along your pail and little shovels so the tiny tot at home can have some fun too. After playtime, you can also take a walk on the beach and admire the historic black-and-white bungalows in the vicinity.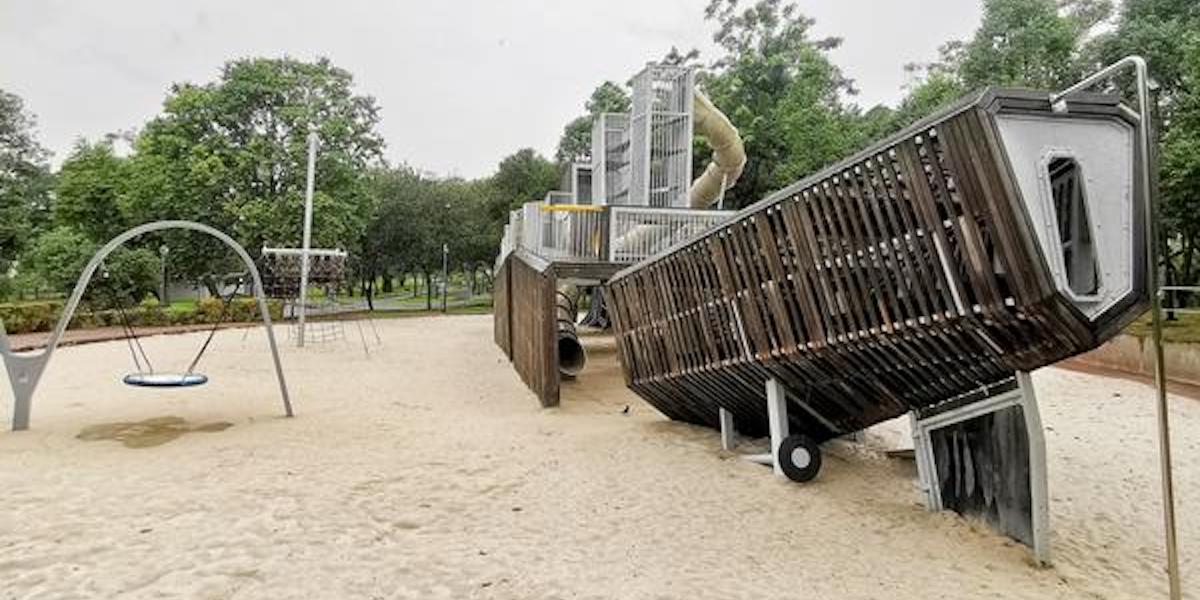 Image source: Bykido.com
Coastal PlayGrove
Situated at the former Big Splash at East Coast Park, Coastal PlayGrove is one of the latest family-friendly outdoor destinations opened in Singapore. The Play Tower is Singapore's tallest outdoor play feature with a four-storey slide and a Vertical Challenge, a 16m-tall net play area and obstacle course that is suitable for those 13 years and older—no excuses for your teen to reject a playground outing! While the water play area is currently closed, smaller children will enjoy imaginative play at the nature playgarden with a bamboo tunnel trail, exotic shrubs and the wildlife like butterflies and birds they attract.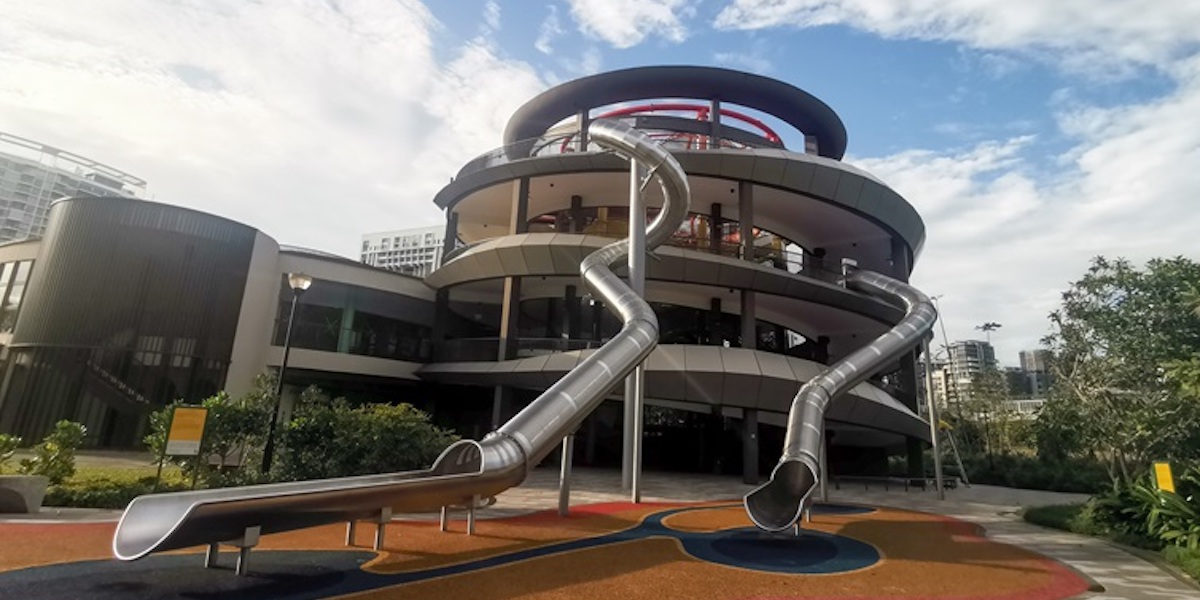 Image source: NParks.gov.sg
Tampines Green Forest Park
The playground at Tampines Green Forest Park at Tampines Avenue 8 is possibly many nearby residents' favourite playground and best-kept secret in the east of Singapore. There are two portions to this awesome adventure play area. The first is a regular playground built upon a sandpit, which will delight tiny tots and preschoolers alike. But the highlight of this park is really the high element obstacle course—a ropes-based structure for taller children to get up to the top, traverse a narrow (but safe and covered) path before reaching a tunnel slide.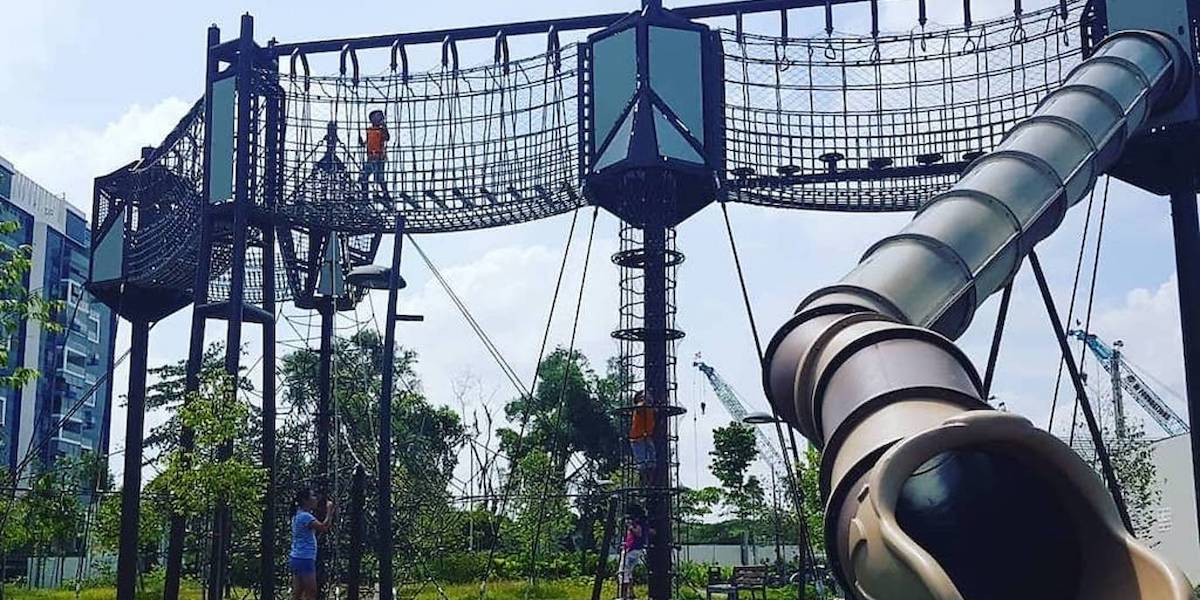 Image source: Instagram/@cue_ang
Jacob Ballas Children's Garden
Renowned as the first garden in Asia dedicated to children, Jacob Ballas at the Singapore Botanic Gardens has been a perennial favourite for kids and parents for good reason. The suspension bridge, nature play areas and tree houses are perfect for little explorers to enjoy the greenery while expending their energy. The curated trails also provide the opportunity for little ones (and adults) to learn more about the ecology of plants.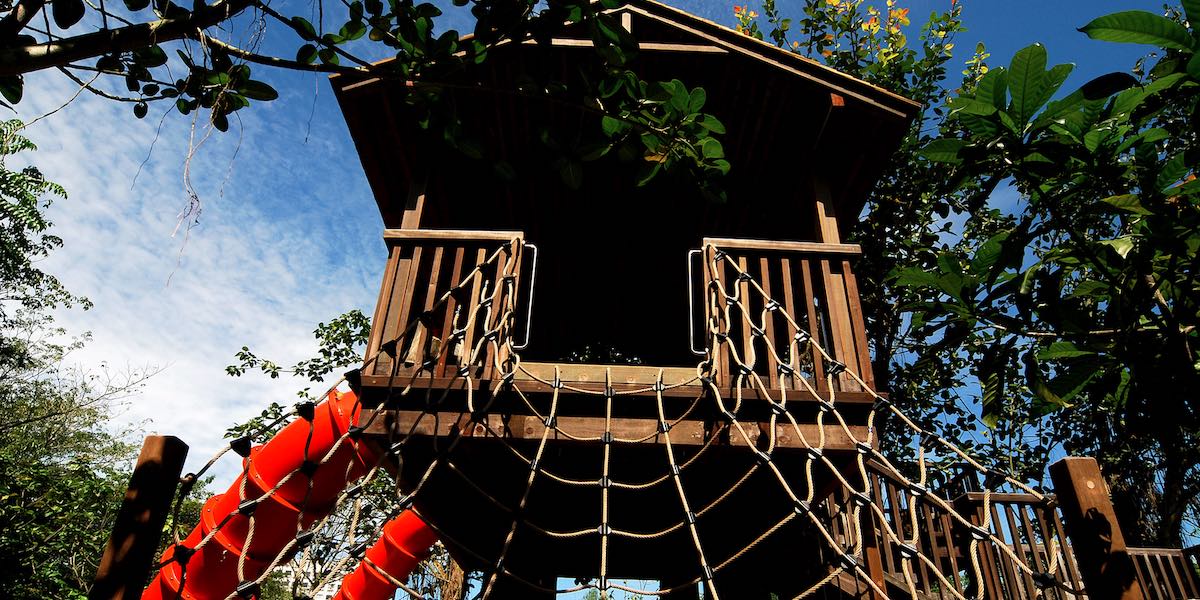 Image source: NParks.gov.sg