Esplanade shares with us their interview with mum and caregiver, Wei Ping and her 13-year-old son Hong Yang, who has Autism Spectrum Disorder (ASD).
The video, Arts for Change, in which mother and son are featured, offers a little insight into something Esplanade does as an arts centre; how they bring the arts to people from all walks of life, and the difference that it makes in these individuals' lives.
The special needs community is one of the groups that they reach out to, through workshops and sensory-friendly shows as part of their PLAYtime! series.
This article is an excerpt of the interview done by Esplanade, read the full article here.
---
Unlike other kids of his age, Hong Yang has low-functioning autism and impairments that affect his communication and motor skills and behaviour. Due to his unpredictability in new environments, his mum Wei Ping had spent the day before the meeting preparing him for it.

Apart from being his primary caregiver, she is also his translator and lifeline, and an autism advocate. As she went into detail about Hong Yang's condition, habits and quirks, she told us what it is like to care for an individual with ASD, and what should be expected during filming.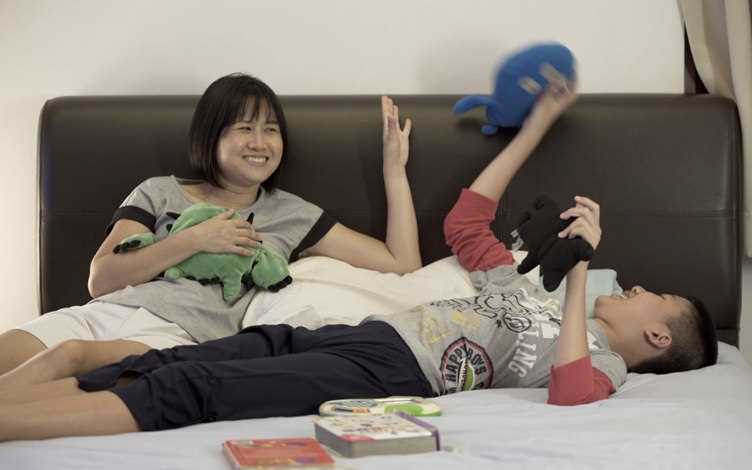 Tell us about yourself and Hong Yang. When did you first learn about his condition?

Hong Yang is a tall and handsome 13-year-old on the outside, but his brain is at a neurological age of a four-year-old, with speech and communication ability of a two-year-old.

At six months old, he fell behind on developmental milestones and that's when we knew something was amiss. At 15 months, he had seizures and was diagnosed with epilepsy. Doctors suspected he had Angelman syndrome (a complex neurodevelopment disorder). By the age of three, he finally received a formal diagnosis of autism with severe developmental delay.
What is ASD?

ASD stands for Autism Spectrum Disorder, a neurological disorder. Due to its complexity and the numerous permutations of autism traits, no two people with autism are the same.

People with autism see the world differently. They react to their distorted perceptions and their autistic behaviours are their ways of coping with day-to-day situations.

These include not making eye contact; making sudden sounds; obsessing over spinning things, lights and doors; and more. These strange actions come into conflict with the individual's ordinary appearance, so he/she is often misunderstood or judged when what he/she needs is understanding and acceptance.

Have you and Hong Yang been to Esplanade before?

We have! But not for what you might expect. One of Hong Yang's favourite routes is a train ride and walk from the City Hall MRT station to Esplanade. At the basement, he watches the automatic doors open and close over and over again. It's one of his obsessions.

While others go to Esplanade to enjoy the arts, I never dreamed that we would be a part of it. We are content watching auto doors, as long as Hong Yang is happy.
What was Hong Yang's first encounter with the arts? Did he like it?

It was a gamelan workshop at Esplanade. Normally, he has difficulty just sitting calmly and being quiet, but he surprised us by sitting through the session and eventually striking the gong! This encouraged us to look into more arts programmes such as the sensory-friendly performances at Esplanade.
You also lead a support group for children with special needs and you've brought them to Esplanade too. How did that come about?

During school holidays, there isn't much for us to do as there are few activities that are inclusive. So I organise whatever I can, if I'm lucky enough to meet with kind service providers.

By chance, I got to know of the free concert series, Beautiful Sunday, that takes place monthly at Esplanade. I wrote in to ask if we could attend the orchestra's rehearsal so that our families could experience the concert without being stressed by public reactions to their kids' behaviour.

To be honest, I was prepared not to receive a reply. I've made cold calls before and getting no response is common, I guess because it's the most polite way of declining. But within a day, I got a reply from Esplanade asking for a meeting to understand our needs! I got to know about Esplanade's Community Engagement work and to this day, I'm still touched and grateful to the team for offering us the opportunity to expose the autism community to the arts.
You've brought Hong Yang and the support group families to a sensory-friendly PLAYtime! performance, in addition to the gamelan workshop. How was that experience?

Both events were firsts for Hong Yang. At the workshop, he took a while to warm up but participated willingly halfway through.

As for the performance, I was worried, not knowing if he could sit through 45 minutes but he did and even attempted to imitate the actions when the performers asked the audience to follow them! The families were very appreciative of Esplanade's efforts. One parent even wrote a letter of commendation to The Straits Times forum page.

How do these experiences benefit people with ASD?

It's rare that people with autism are exposed to "normal" activities or events. In severe cases, even their caregivers don't get much exposure to any entertainment, much less the arts.

An opportunity for some exposure is meaningful and priceless to the whole family. It's also a chance to integrate with the community and feel "normal". For families affected by autism, the arts can be considered a luxury. It's common that four-figure sums are spent monthly on special school and therapy alone.
---
Providing a Safe Space to Enjoy the Arts
Esplanade offers an environment in which anyone can enjoy the arts. Through the years, they've welcomed audiences with special needs. It began with the Feed Your Imagination (F.Y.I) series for schools, which provides two complimentary teacher tickets for every 10 student tickets purchased by Special Education (SPED) schools.

In 2016, the sensory-friendly performances in their PLAYtime! series for two-to-four year olds, Bunny Finds the Right Stuff was launched. They spoke with parents, educators and arts practitioners to understand the needs of the community and modify the show to accommodate individuals with sensory-processing disorders, including children on the autism spectrum.


What Can You Expect at A Sensory-friendly Performance?
Parents, caregivers or teachers have access to pre-show resource materials to help them prepare the child for what to expect at Esplanade. Also, during the show, there are no total blackouts, no sudden loud sounds and theatre etiquette is relaxed such that anyone can get up, move around or leave the theatre should they need to do so.