Financial planner and prominent parenting blogger Kelvin Ang – also known as the Cheekiemonkies dad – may have introduced Singaporeans to many fun and kid-friendly places through his blog, but being stuck at home during the Covid-19 circuit breaker proved to be a brand new adventure.

"There were instances of tempers flaring and raised voices, but we also learned more about each other," said Kelvin. "I had the chance to listen in as my sons talked to their friends during online lessons or games. It opened my eyes (and ears) to another side of them that I hardly see, like how they sometimes banter with trash-talk. I used to chastise them for being rude, but I now realise it's just how teens communicate."

Having his three children at home during the home-based learning (HBL) period took some adjustment, but having a structured and varied schedule, and allowing designated study areas eased the experience for his children aged 15, 14, and 10.

"I realised kids thrive with a schedule. We all sat down and came up with a daily routine which incorporates playing, revision, exercise, reading and even helping out with the household chores. We also tried to enjoy an activity together, be it a board game, online gaming, working out to a YouTube video, baking cookies, or even washing the toilet!"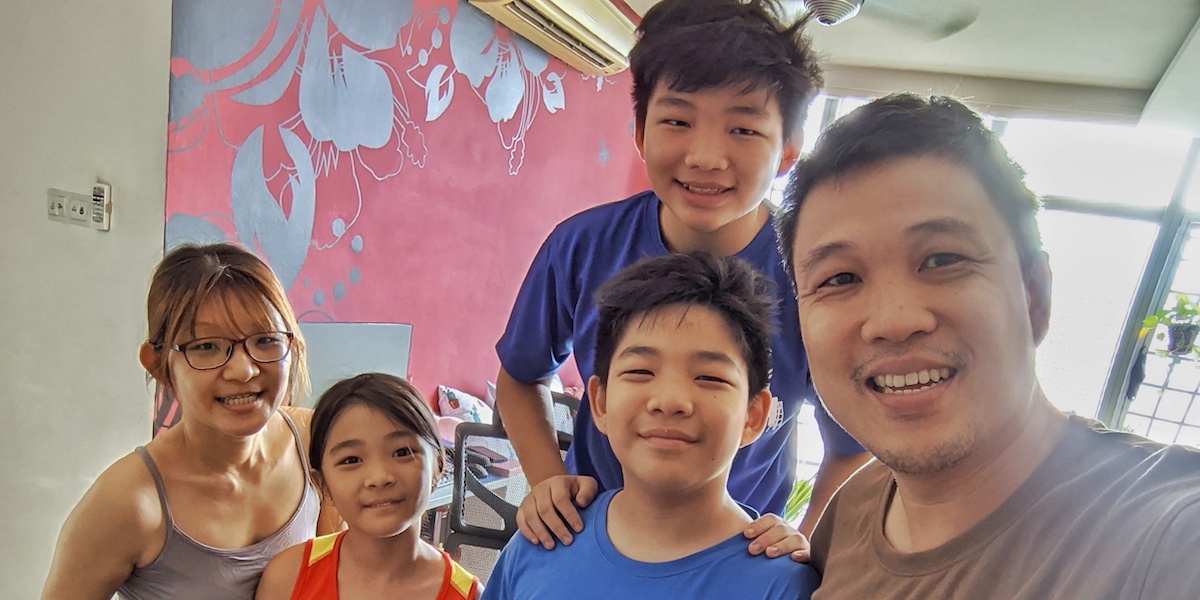 No need to micro-manage
With all that extra time on digital devices for HBL, how did Kelvin and his wife manage their children's screen-time? One tip he had was to place equal emphasis on consumption and creation.

"If they played Nintendo Switch for an hour, they must also spend an hour learning and creating on an electronic device. Initially, it involved something simple like using the iPad's camera to take photos and shoot videos, or learning to make slime by watching YouTube videos. Over time, they picked up skills not usually taught in classrooms. My son's Excel spreadsheet skills now surpass mine, while my daughter has picked up video editing and anime drawing skills!"
Fatherly hopes
Striving for a balanced life extends to Kelvin's dreams and wishes for his children. He may fret over their future but his ultimate wish is for them to be the best version of themselves and to always be happy. "My children do not have to follow in my footsteps and neither do they have to emulate someone. I never want them to be the victims of my unfulfilled ambitions."

As a modern dad who is more expressive than generations before, for Kelvin, it boils down to spending both quality and quantity time with his brood. Fatherhood is a relationship that spans time, he mused, pondering the saying that "anyone can father a child, but being a dad takes a lifetime."

"I have resolved to be there for my children wherever and whenever I could – from diaper-changing, bathing, to playing and putting them to sleep. And I can tell you now that it was well worth the time (and loss of sleep)."

Even though celebrations for Father's Day this year are still restricted indoors, Kelvin's family has floated the idea of having the kids plan dinner and cook the dishes. If you wish to see if that materializes, follow Kelvin on Instagram (@cheekiemonkies).