This story was done in collaboration with Mediacorp Brand Studio and first published on CNA.ASIA.
For Samuel Toh and Deenise Yang, the perfect way to round off their five-year courtship would have been to get married in a church, in the presence of a hundred or so family members and friends.
The couple were all set to let their dreams take flight. In fact, they had already undergone the marriage preparation course organised by their church, during which they had frank discussions about issues that were previously left unspoken such as fidelity, intimacy and what marriage means to them. But while this put them in good stead for dealing with the realities of married life, pulling off the wedding itself proved to be another matter entirely. Shortly after deciding on their wedding date in January 2020, the COVID-19 pandemic hit. Singapore went into circuit breaker mode and all their plans had to be put on ice. "We actually stopped planning and researching once the circuit breaker kicked in because we weren't sure how the pandemic would affect everything," says Deenise, a 32-year-old primary school teacher. "I had joined this Facebook group called SG Budget Brides and many members said they couldn't get their money back for their bookings, so we decided not to book anything just yet."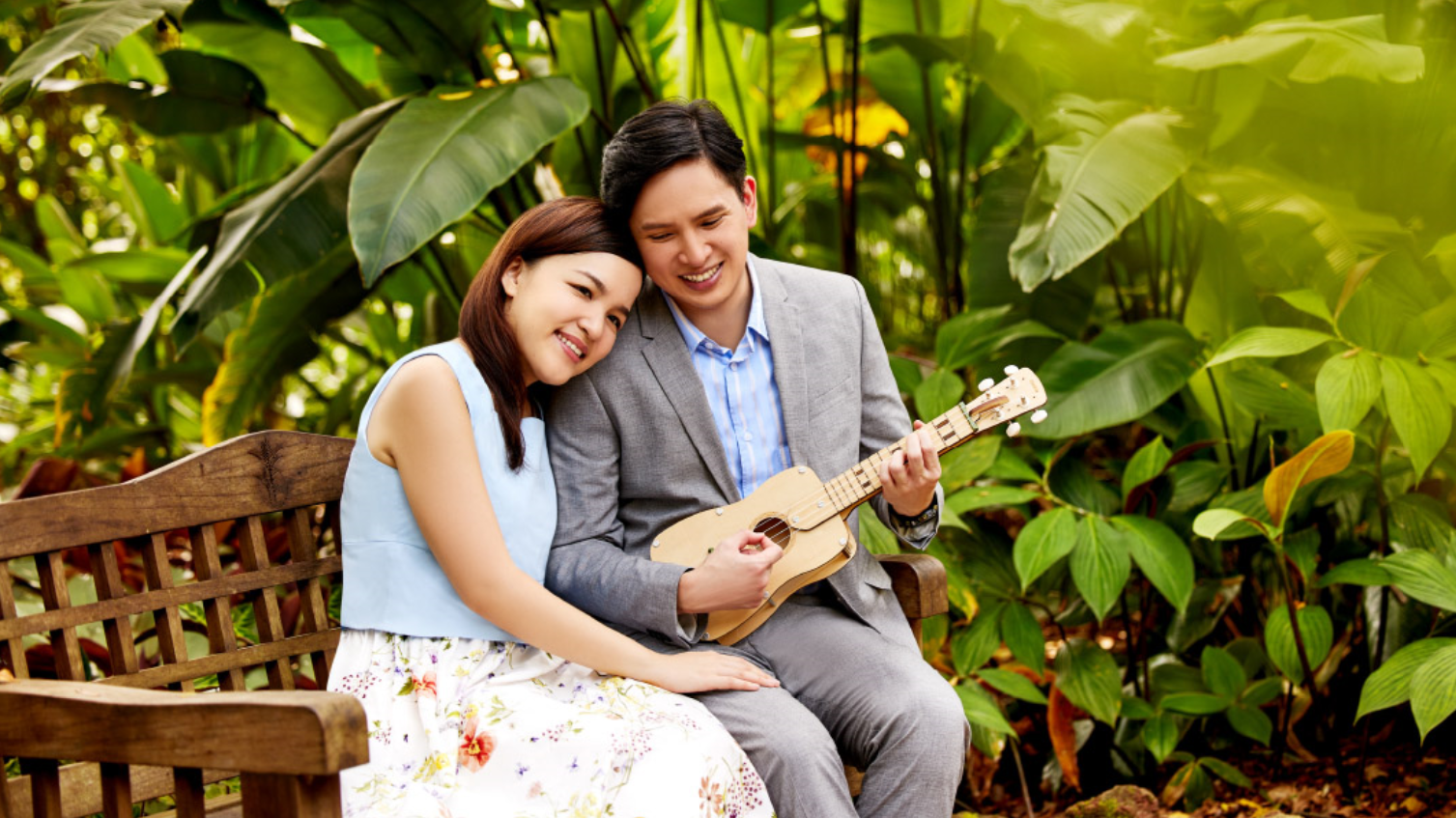 Rather than be defeated by the restrictions, Deenise and Samuel came up with creative solutions for a memorable wedding celebration.
Adapting to An Altered Reality
Though the couple resumed their wedding planning following the onset of Phase 2 last September, it was no walk in the park. Like many other prospective brides and grooms, they were confronted with many uncertainties on how to carry out their nuptials in the midst of such an unprecedented state of affairs. Among initial fears were the safe distancing measures and how these would affect their wedding ceremony and luncheon on 27 February 2021. For one thing, attendees had to stay strictly one-metre apart at church weddings — something Samuel himself experienced first-hand when he attended his friend's ceremony. "Everyone was spaced far apart in the pews. And afterwards, the transition to lunch brought another set of logistical problems," says the 33-year-old lecturer.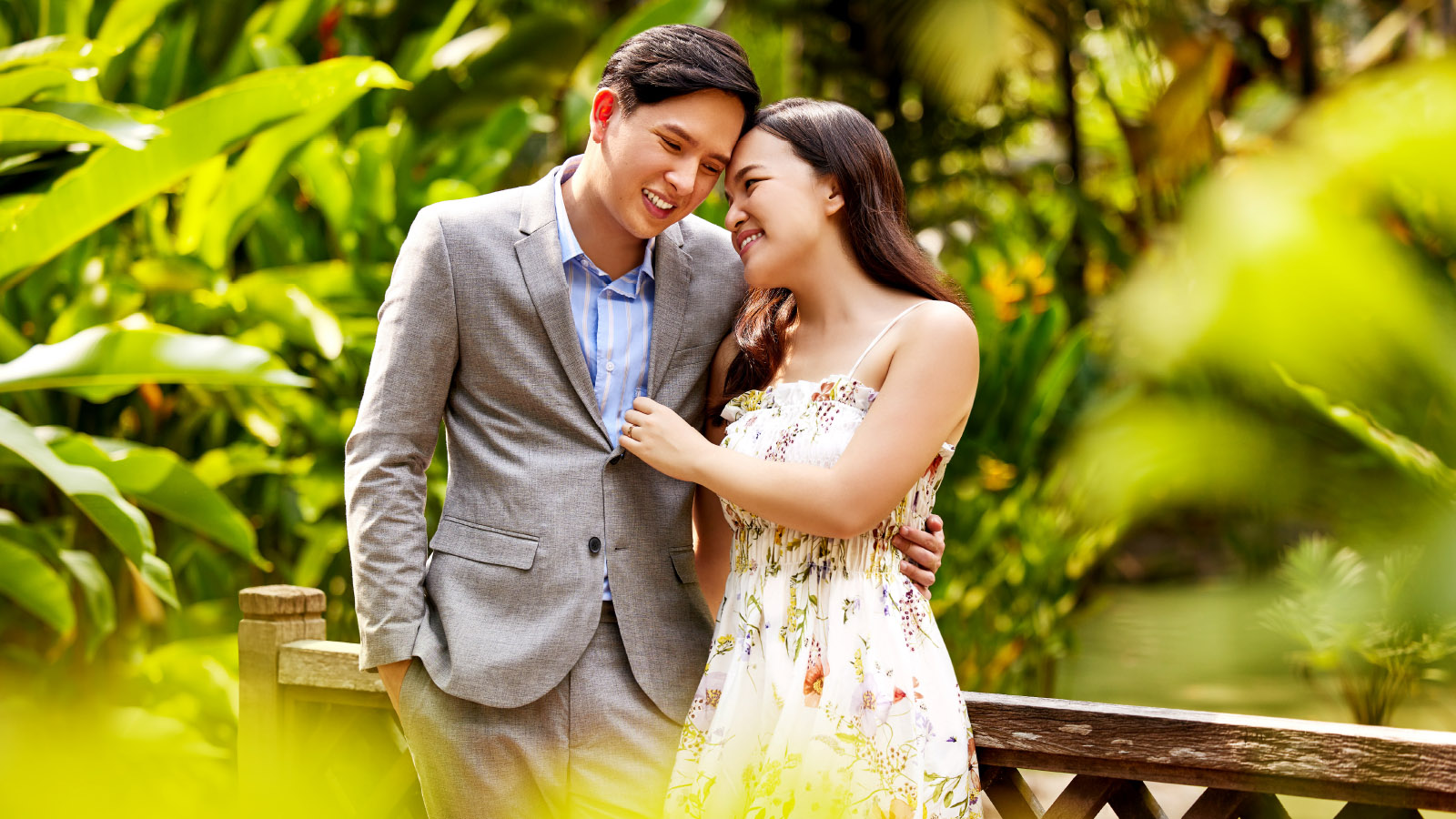 The couple believes that a wedding need not be costly and elaborate — what matters more is that it proves meaningful and enjoyable for all present.
Similarly, the restaurant Samuel and Deenise booked also warned them that safe distancing ambassadors would be doing frequent checks to ensure guests remain at their tables of eight and do not mingle — a potential pitfall since they both have big extended families. To avoid these headaches, they decided to whittle down the guest list to just 20 — the maximum number of people who can be part of the immediate wedding party (including bride and groom) and are exempted from the group of eight rule. Thankfully, those near and dear to them were generally understanding. "Support from family and friends was crucial because it was difficult to invite everyone," Deenise notes. "They understood why we had to keep the wedding small, and harboured no hard feelings — which would have been an unusual reaction in normal circumstances."
Intimate and Innovative, All at Once
While some couples may find it daunting to hold a wedding amidst all these restrictions, Samuel and Deenise were not deterred. "No virus could stop us from getting married. We were excited about the future and wanted to start our married life together without further delay," says Deenise.
Neither were they disappointed at not having a big do — for Samuel and Deenise, the rules dovetailed nicely with what they originally wanted for their wedding. "I always tell people that now we have an excuse to have fewer guests," jokes Samuel. "Both of us wanted a small, intimate wedding so that we could use our money to have a good time during the honeymoon. Though we're unable to do that now, the COVID-19 pandemic allowed us to focus on what truly matters — the union of two people and the celebration of love."
To enable friends and relatives to still be part of their wedding, the couple brought the proceedings online. They hired a videographer who could live-stream the solemnisation on YouTube, provided PayNow QR codes for well-wishers to send e-hongbao and even pre-recorded a song performance to entertain their virtual guests. Along with their wedding montage and a video of their love story, the pre-recorded performance bookended the live-stream of the solemnisation, which took place at the Flutes restaurant at the National Museum.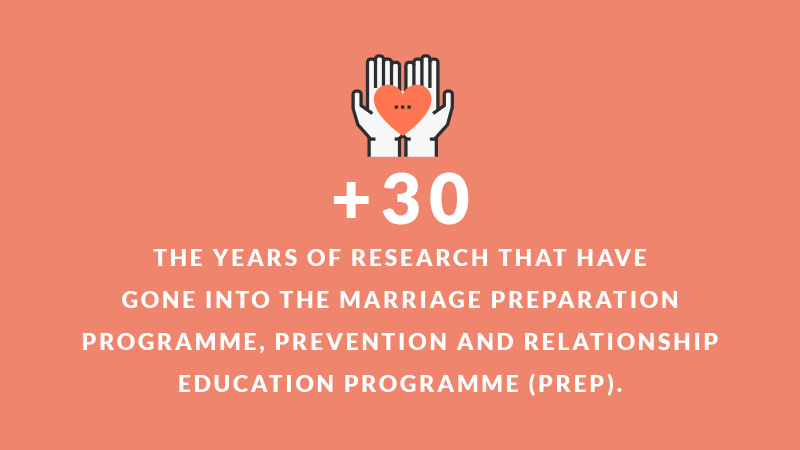 Low On Cost, High On Impact
The couple opted for a low-key wedding to invest more in their flat and home renovations. "During Phase 1 and Phase 2, the prices for many wedding services dropped so we managed to get some good deals for things like makeup and videography," shares Deenise. She also got many recommendations from the SG Budget Brides Facebook group, where members share their experiences, tips and reviews. "You really need to shop around and compare prices. Wedding gown rentals, for instance, can go up to $1,000 or more. But I got mine from a sustainable rental store for $400 — I think it's the cheapest in Singapore so far," she says. Carousell was another resource that she drew on. "You can find a la carte items like wedding gowns and floral bouquets at much cheaper prices there. I got my bouquet for $120 when it usually costs around $400." The wedding cake, which the couple ordered from a little bakery, costs only $70 and they could even personalise their own cake topper. For their wedding bands, they opted for practical, hardy tungsten rings instead of gold. "We chose rings that cost only a few hundred dollars because Samuel might just lose his before long," Deenise reveals with a laugh, as Samuel looks on sheepishly. "Although to be fair, either of us could be guilty of it," she adds with an affectionate look at her husband.
The couple are now settling into married life. "It's strange at first to refer to each other as husband and wife," says Deenise. "We are also still trying to get used to this new life of living together and managing our finances together. But so far it has been great. Now that we're married, we're learning to give and take and make sacrifices for each other, such as making the effort to set aside couple time."
To those apprehensive about holding a wedding now, Deenise has this to say: "A wedding is a special occasion for just one day. Just go for it and keep it small. What matters most is the journey after your marriage. In fact, now is the best time to have a wedding — my married friends are envious because we got to keep it small, cost-effective and simple!"