Fatherhood has irrevocably changed Lau Han-Loong's life, but he would not change a thing about it.
"Setting my own desires, aspirations, and even needs aside for my son is a sacrifice, but it's still the best decision that I've ever made," he says with a nod. "To me, it's about raising him to his full potential, to be a better person than me."
As with every new parent, Han-Loong and his wife found their lives upended when their son Rui Yang, now 26 months old, was born. Simple pleasures like slow dinners, stay-in weekends, and even uninterrupted time on the toilet were things of the past.
Recalling how he and his wife would have to take turns to do the night feeds for their infant son while still needing to get up for work the next morning, he says, "It was an incredibly stressful time, and we didn't know when things would get better—but once it did, everything became infinitely more fulfilling."
"Especially when there's that first smile, that first look of recognition that we are 'Papa' and 'Mama'."
Finding fun in fatherhood
The early days, he shares, went by in a blur of feeds and diaper changes. During the first few weeks, he remembered feeling a sense of hopelessness at what his future would be like. "Would it always feel so difficult?" Han-Loong thought to himself.
One night, while he was holding his son after a midnight feed, Han-Loong decided that he had a choice: to revel in his newfound status as Dad, or continue to feel lost.
"While I was holding my son that night, I felt an urge to exercise like I used to pre-fatherhood—and I just started doing squats while rocking him to sleep, and that's when I realised that hey, being a Dad can be fun. And it's completely up to me to find it and create it."
Since then, Han-Loong has been determined to enjoy every moment of fatherhood. Whether it's something as mundane as the morning routine on weekdays, or a trip to the playground, "I don't see it as a chore to be done."
"Instead, I find my fun. I hop right into the thick of things with my son at the playground, and make up games that we can both play," he says with a grin.
And his trick for beating the morning routine blues? "I've started challenging myself to see how quickly I can prepare Rui Yang for school, and it keeps me in good spirits. My personal best is 25 minutes, down from 50 minutes from when I first started!"
Parenthood made easier with grandparents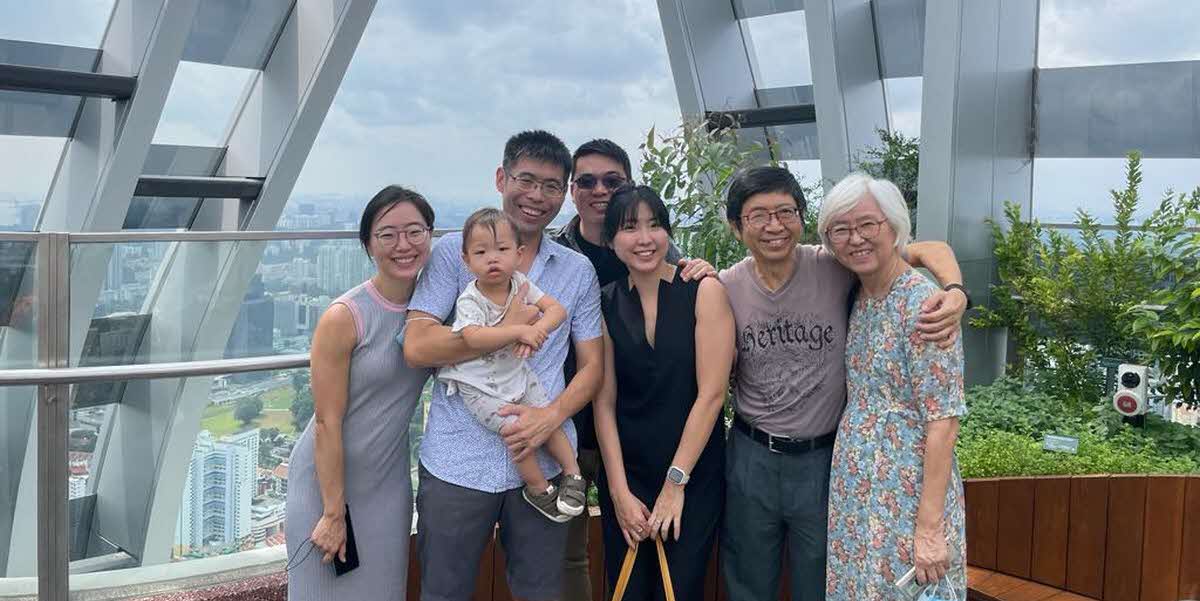 Han-Loong (carrying his son, Rui Yang) with his wife, Pei En (left), and his supportive in-laws
Han-Loong is extremely thankful for his in-laws, who have been nothing but helpful in partaking in the daily care for his son.
Especially with his wife, Pei En, pursuing a new career as a physiotherapist, Han-Loong explains that she has to be at the hospital early in the morning and is usually not able to do the morning routines with their son.
"So while I settle Rui Yang's morning routine, it definitely helps a lot to have my mum-in-law picking him up from school on most days and bringing him back to her place after that. She even cooks a homely dinner for all of us, something we all look forward to every evening," he says.
His in-laws are also happy to spend time with their grandson on weekends, giving Han-Loong and Pei En a bit of time each Saturday for a short lunch date. "It's something we do weekly to stay connected to each other, to keep the romance in the relationship. Having that couple time is important to me, especially now that the rest of our time largely revolves around our son."
Han-Loong says that his son loves to spend time with his in-laws, a fact that he does not take for granted.
"My in-laws make it a point to make it a fun occasion for Rui Yang everytime he goes over. They also take him out on their own to fun places when my wife and I have to work. Most recently, they brought him to the Air Force Open House with my sister-in-law and her boyfriend, and they had a ball of a time! They really adore Rui Yang and I think the feeling is definitely mutual there," he says with a chuckle.