Many of us will probably agree to how marriage is something you have to keep working on. Every relationship takes time, and we get to turn daily moments into opportunities for growth.
From navigating differences in lifestyle habits to making big financial plans, marriage programmes provide a good space for you and your spouse to make key decisions, prioritise goals, and get ready for the future as one.
Take on our I Still Do Couple Challenge and stand to win great prizes as you take an intentional step to strengthen your marriage for the longer run.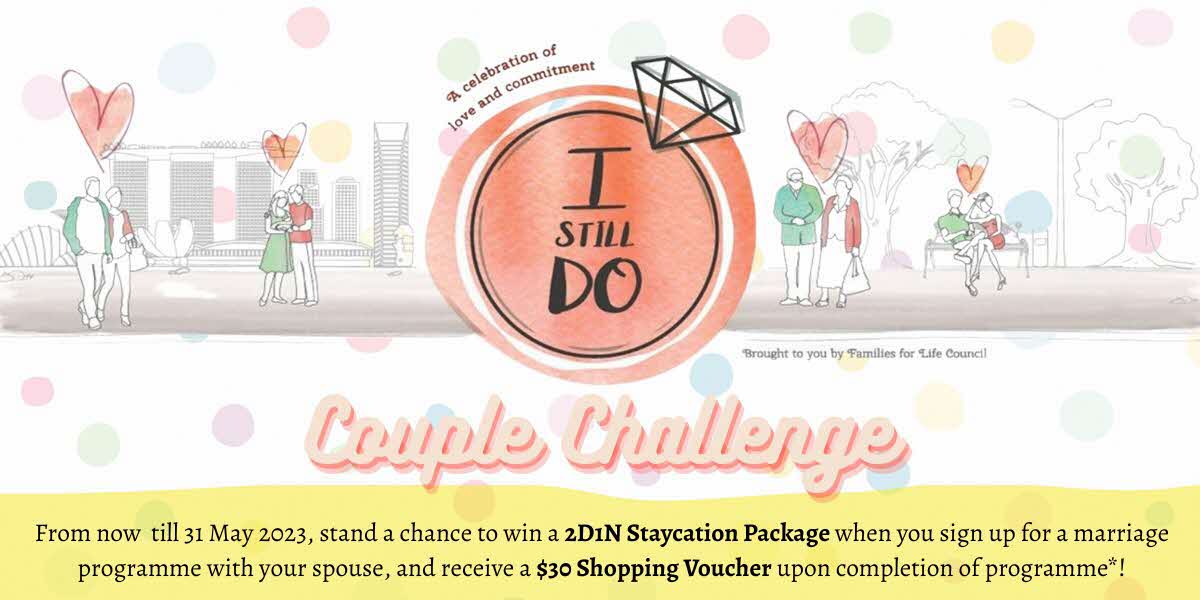 How to Participate
Pre-Programme:
1. Browse through our list of programmes and their respective service providers here, and choose one that is most suitable for you and your spouse.
2. Ensure the programme's start/ end date falls within the "Challenge Period".
3. Next, register for your chosen marriage programme with your preferred Service Provider. (Do note that only those who registered for a programme from 17 Feb onwards will be eligible).
4. Upon successful registration, you will receive a Confirmation Email via your registered email address.
5. Should you face any technical difficulties, feel free to contact the Service Provider directly to register with them. List of Service Providers, programmes they offer and their contact details, can be found here.
During Programme:
6. Attend and complete the programme together with your spouse by 31 May 2023 (i.e. the last session of the programme should end on or before 31 May 2023).
Post-Programme:
7. Submit your programme completion details by 4 June 2023, using the FFL's Completion Form.
8. Please note that only 1 submission per couple is required. Duplicate/ multiple entries will not be entertained.
9. Late entries and/or entries submitted via email to Service Provider/ FFL, will not be accepted.