Interactive and compelling, Esplanade shares with us why PLAYtime! is the best place to develop your child's creativity and enrich their learning experience through performing arts!
This article was orginally written and published by Esplanade, find out more here.
---
The theatre conjures up an image of a quiet, sacred space where the slightest cough or movement might be frowned upon. It is no surprise then that many parents are hesitant about taking their toddler or pre-schooler to watch a play or musical despite the content being age-appropriate.

Enter PLAYtime! an interactive theatre series for children aged two to six, created by Esplanade.

Here are 7 reasons why PLAYtime! is the perfect first step into the world of theatre for your child, one which provides both flexibility and comfort.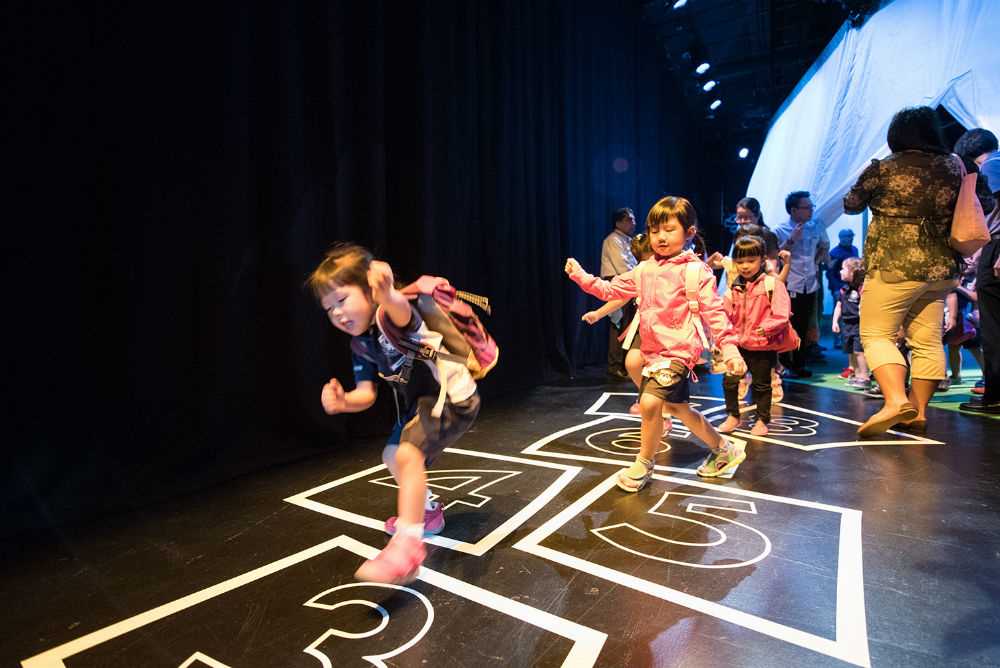 1. A relaxed performance makes a relaxed child (and parent)
A PLAYtime! production is a relaxed performance, but what exactly is this? A relaxed performance means that there is a relaxed attitude towards noise and movement. Unlike your typical theatre performance where audiences sit silently in the dark, children are seated on the floor. They have the flexibility to move and dance along as the show progresses and are not expected to remain silent throughout the performance.

A relaxed environment that encourages participation and interaction. This includes the use of dim but warm lighting to put the kids at ease. To parent Elaine Tan, the flexibility of entering and exiting the space is why she took her 1- and 2-year-olds to Fatimah and Her Magic Socks, their very first PLAYtime! experience. If a child wants to take some time out during a PLAYtime! show, families can leave the space and return anytime. If they feel like taking a break outside the venue, they can continue watching the show on a television screen outside.
2. The action is all around!
A typical PLAYtime! experience starts right from the moment kids walk through the doors. The vibrant set pieces, catchy music, sound effects, and interaction that kids have with the actors, engage their senses. The set envelopes the entire space and actors make use of the space to move around and in between audience members.

Joey Tan, a first-time parent who brought her infant to Koko the Great, believes that the combination of interaction, movement and vibrant sets were key to capturing her daughter's attention. "She was intrigued during the interactive part, seeing so many kids walking around and playing. She was mesmerised when the characters sang and moved, while the colourful props and movement attracted her attention."

The PLAYtime! artists who create works for children recognise that children are responsive, and participation and interaction are encouraged. It is a common sight for little ones to get up and dance, or respond to the actors directly.
3. Up close and personal
Imagine a theatre filled with a few hundred strangers, with actors on stage a stone's throw away from the audience. Now, imagine this from the perspective of a child who has never been to a live theatre show. Some children may find the crowd overwhelming, while others may lose interest in the performance by virtue of being too far away from it.

PLAYtime! productions are staged at the smaller venues in Esplanade, and the house is capped at 200 people, so there is ample space for everyone. Blogger Jamie Koh of bimbimbubs.com, whose child was 21 months old when she attended Koko the Great, believes that the smaller venue and audience capacity create a more conducive environment for young theatregoers.

With children seated closer to the set and action, safety is a key priority for the team. Chua Lik Ling, Head of Children and Youth at Esplanade, shares, "In the context of  PLAYtime!,  designers need to ensure the material they use is child-friendly and that the set and props they design can withstand the touch of children, while also meeting their design objectives. For example, our interactive props are usually layered with felt or soft materials that are safe for children."
4. Sensitive lighting and no harsh sounds
Loud sound effects, harsh lighting or sudden blackouts may be intimidating for young kids, but the PLAYtime! team considers these details carefully. Sound levels are regulated to make sure that they are not too loud for the little ones. There are also no sudden blackouts which may put them off a future theatre experience. The dim but warm lighting is also relaxing, which helps in making it a comforting and comfortable environment.
5. Content tailor-made for the young
Worried that the story may not be understood by your little tykes? Explaining how PLAYtime! was conceived, Chua shares, "When we first started, there were few companies or individuals that work in theatre for young audiences.  The scene saw mostly works that were heavy on text and targeted at children aged 5 and above."

Hence PLAYtime! decided to focus on creating works that are accessible and relatable to the younger age group. "The story needs to be meaningful and simple enough to be understood. This narrative will then set the basis for other performance elements such as the visuals, props and even acting," says Chua.

Involving Singapore practitioners to create and present works that reflect their stories, cultures and social context is also part of making the story relevant to children in Singapore. Productions like Bunny Finds the Right Stuff, The Bird Who Was Afraid of Heights and Rochee: The Friendliest Cockroach are all adapted from stories written by home-grown children's book authors.

The directors who work on PLAYtime! productions are also conscious of the need to create works that are suitable for young audiences.

Ian Loy, associate artist for Theatre for Young Audiences at Esplanade and director of productions such as The Bird who Was Afraid of Heights and Grandpa Cherry Blossom, believes that the incubation period, typically four to six months, gives him time to study, interact, experiment and learn from mistakes, and is critical to developing age-appropriate works. To him, observing what children form connections with also contributes towards understanding how the different ages perceive the world.
6. Short and sweet
Generally, young children have relatively short attention spans. Getting them to focus on a performance for over an hour can be a Herculean task. PLAYtime! productions are about 45 minutes long, punctuated with moments of interaction, movement, song and dance, contributing to a more engaged audience.
7. Extending the experience beyond the theatre
Every child who attends a PLAYtime! performance receives an activity sheet that complements what they have just watched. From colouring activities to creating simple crafts with mom and dad, the handouts are designed to extend the experience for kids after they have stepped out of the theatre.

Parents and kids can also make their way to PIP's PLAYbox after the show, Esplanade's activity area for children with a section for craft activities.

Chua says PLAYtime! has been carefully thought out to create a fun, stress-free introduction into the world of theatre for the young and their parents.
"PLAYtime! has been carefully created to introduce the world of theatre to the young. We hope that your child's first steps into the theatre would be an experience he will remember for a long time and the beginning of many more steps into the arts!"
This article was originally written and published by Esplanade, find out more here.