As many parents would have realised, bringing up children in the age of digital technology is a double-edged sword. Devices help as much as they hinder. For every mum or dad who has eagerly harnessed tech to their advantage – think interactive ebooks with their multimedia capabilities – there is another who worries about the magnetic hold that screens have over their offspring.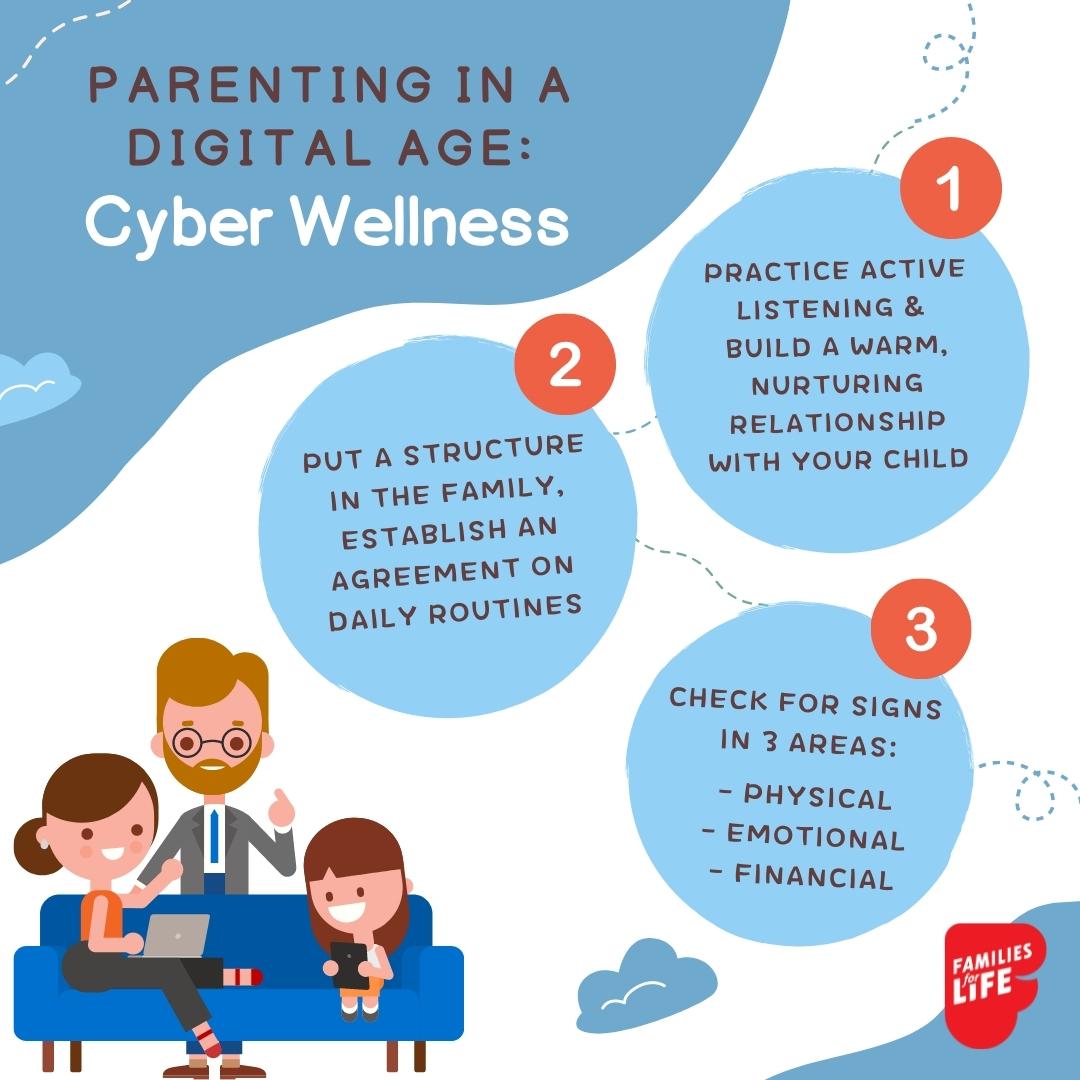 Digital parenting comes with its own unique set of concerns. Some parents worry that technology use distracts their children from their studies, while others fret about online dangers such as cyberbullying and exposure to inappropriate content. All these occur at a vulnerable age when many youths are still grappling with issues of identity and self-esteem.
If you are navigating these tricky challenges with your young digital natives, here are three simple tips for you to keep in mind:
1. Listen actively and prioritise your relationship with your child
Start by embracing the digital life that your kids inhabit and seek to build connection. Instead of just giving your child a hard time about his technology use, listen and manage with empathy.
Worried that Junior spends too much time gaming online with his friends? Negotiating a one-game-a-day agreement after he completes his homework may be a more amiable solution than insisting that he leaves his game partway to stick to a strict time limit.
2. Set a routine or family rules around tech use
Laying down ground rules for technology use helps to set expectations for your youngster. One way is to build structure into family routines, such as putting away all devices during meals so that time spent with family is more intentional.
Another is drawing clear boundaries on unacceptable content such as excessive violence and offensive language. Spelling out clear penalties for flouting house rules send a clear signal to your child what is healthy online behaviour and what isn't. It also encourages your child to learn responsibility and self-discipline.
3. Look out for possible cyber danger signs
Even as parents move from a top-down, instructional mode to a consultational parenting style as your child grows, it's important to do regular check-ins on your child's cyber wellness.
Start by asking yourself these three questions:
Is my child entering a physical danger zone?

Is my child encountering an emotional danger zone?

Is my child in a financial danger zone?
Build a warm, nurturing relationship and create a safe space with clear boundaries, so when your kids run into trouble in cyberspace, they are more likely to turn to mum and dad for help and support.
Tap on free available resources as you learn to keep your child safe online.
The content of this article was adapted from a Facebook Live session with Dr Edmund Wong, member of the Alliance for Action to Strengthen Marriages and Family Relationships (AfAM) and Minister of State Sun Xueling.