Photos taken in collaboration with Deborah Quek
It's more than a group of children having fun together – playing is a crucial activity when it comes to children's health and development.
The American Academy of Pediatrics (AAP) clinical report, "The Power of Play: A Pediatric Role in Enhancing Development in Young Children", says that playing with both parents and peers is key to building thriving brains, bodies, and social bonds.
Through play, a child learns how to plan, organise, relate to others and forge meaningful relationships. When playing in groups, they learn to respect others and to control their own immediate needs and impulses.
In addition, play helps with language, math and social skills, and even helps children cope with stress.
CHILDREN ARE BORN TO CONNECT
Children are born with a need for interaction with others. There is an innate desire to create relationships – to relate, communicate, collaborate – a need for belonging and feeling needed by others.
Researchers have observed that babies' social behaviours closely mirror their developing physical and motor skills. Babies as young as two months old gaze at each other and stick out their chins when looking at each other.
Babies begin to interact with each other from as young as three to four months. And by six months, babies are able to communicate with other babies by smiling, touching and babbling, and can participate in group communication.
Between one to two years old, children will naturally play with the other children around them, rather than choosing a "best" friend.
Children are more likely to interact with other children who are more like "family". As such, your child's best playmates will be the children of people you know, such as the children of your good friends, your nieces and nephews, and your children's classmates.
Once your child is older and can communicate more, they will probably tell you who they like playing with and ask for playdates with specific friends.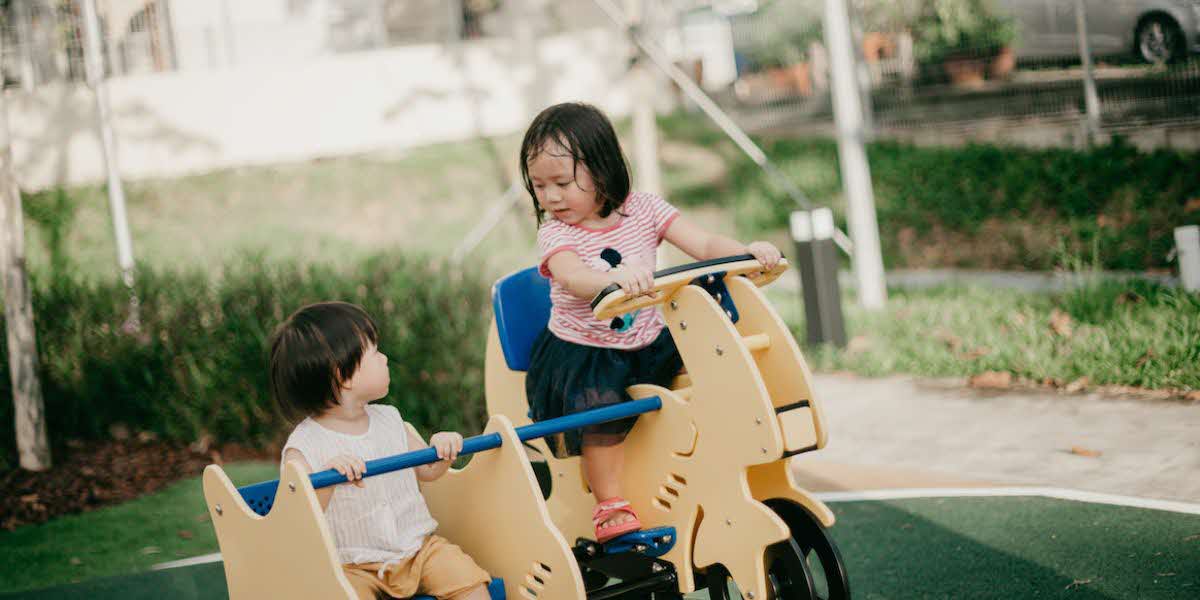 TOYS CAN DO THE TRICK
Providing a variety of toys to children playing together helps enhance social interaction.
For example, small toys can become the focus of interaction between two older infants as they show the toys to each other, offer them to and accept them from each other.
Larger toys, such as a rocking boat or climber, provide children with opportunities to cooperate with each other, imitate each other's actions and practise taking turns. Even when toys are absent, children will spend time looking, smiling, gesturing, and talking to each other.
Encouraging children to make music together during play times allows children to practise skills which are important for interacting and developing relationships.
Making music does not require sharing, which most toddlers are still not adept at. Musical games encourage imitation, taking turns and developing self-control.
There is no doubt that happy, playful moments are some of the most precious gifts we can give our children, for a lifetime of making friends and finding joy in relationships.