MS TRICIA HO
COUNCIL MEMBER, FAMILIES FOR LIFE
Former lawyer at Drew & Napier llc
Family law lecturer, Singapore University
of Social Sciences
"Families are cornerstone of our Asian culture, a safe base for children to establish a positive attachment and bonding with their parents, building meaningful relationships, radiating across people. We would like to help every Singaporean home to provide their youth with the warmth, love and hope for them to explore the world, and the buffer to fall back and be encouraged on as they shape a positive future."

Dr Wong is married with 3 grown up children. He is a clinician, educator and researcher in Child & Adolescent and Family mental health. A senior consultant psychiatrist with the National University Hospital, Associate Professor and the Head of the Department of Psychological Medicine at NUS and NUH.
He is also the Center Director for NUS Mind Science Center, which develops and implements evidence based programs promoting emotional resilience and optimization of cognitive performance among the youth, adult and elderly in the community.
He is a strong advocate in establishing competent parenting practices among parents of disruptive children through the Incredible Years program, and also working towards establishing a stronger presence of informed parenting of Asian adolescents in Singapore.
A/PROF JOHN WONG
COUNCIL MEMBER, FAMILIES FOR LIFE
Associate Professor; Head and Senior
Consultant Psychiatrist,
Department of Psychological Medicine,
Yong Loo Lin School of Medicine, National
University of Singapore,
President of the College of Psychiatrists,
Academy of Medicine Singapore
& Director, NUS Mind-Science Centre
"I look forward to being a member of the Families for Life Council where I can continue to contribute to my vision of a healthier, happier family."
Dr Elly has been practising family practice in private since 2001 starting with a family clinic in Woodlands, followed by another in Jurong West two years later.
Her interest in health education does not stop at her clinic itself as she involves herself actively in the community in both areas providing health talks and health screenings. On the national level, she appears frequently on Malay TV Programmes such as "Klinik Kita", "Tanya Doktor", "Jus", "Berita on Suria" , "Sihat Oh Sihat " and "Detik" as a health expert and ambassador.
On the radio, she is a well-recognized voice on Warna 94.2FM when it comes to discussing health matters. She also contributes to Malay magazines like "Sutra", "Manja" and the Malay Newspaper "Berita Harian" on health issues.
She is a member of the Muslim Healthcare Professionals Association's Outreach Committee. She is also one of the founders of Geng Sihat SG, a community outreach group made up of health and allied health professionals who aim to promote and create awareness about healthy living.
Having a daughter who was diagnosed with Autistic Spectrum Disorder with a passion for music also prompted her to set up a music school , Madison Academy of Music to help nurture her daughter and other children through music.
MRS JOANNA PORTILLA
COUNCIL MEMBER, FAMILIES FOR LIFE
Co-Founder, The Collective Effort LLP
"My Family is my pillar of strength and hope. Making time for family bonding is an investment that brings about greater satisfaction, love, care and trust with our loved ones. Hope we can together further strengthen our family values to promote family unity and nurture love and care to make Singapore truly a better place Made for Families."
Ms. K Thanaletchimi is an elected Vice President of the National Trades Union Congress (NTUC) Central Committee, and President of the Healthcare Services Employees' Union. Concurrently, she chairs the Labour Movement's Essential Domestic Services Cluster and NTUC Women's Committee. Representing workers and the Labour Movement, Ms K Thanaletchimi sits in several government agencies, national institutions and tripartite committees, such as IMDA Data Protection Advisory Committee and People's Association Board. She also serves as the Board Member of NTUC Health and Institute of Technical Education (ITE).
A veteran unionist, Ms K Thanaletchimi was a Nominated Member of Parliament from 2016 to 2018, during which she leveraged her extensive union work experience to address the issues and challenges faced by workers in Singapore, with an emphasis on women, family, and healthcare issues.
In recognition of her contribution and service to advance the interests and welfare of workers, she received the National Day Award (Public Service Medal) in 2019.
Aligned with NTUC's efforts, Ms K Thanaletchimi continues to champion for workers and plays an integral role in connecting the various Tripartite stakeholders like Ministry of Health, SkillsFuture Singapore, Workforce Singapore and Management Partners from Public Healthcare Clusters together to advocate for training and job redesign so that members could enjoy a fulling career in the Healthcare Sector.
She is also a strong advocate for flexible work arrangement and work-life harmony and calls for better support for workers with care-giving needs in their families. She believes that every workplace can be a family-friendly workplace and an inclusive one if employers put their hearts and minds into building a family friendly organisational culture.
MRS SHER-LI TORREY
COUNCIL MEMBER, FAMILIES FOR LIFE
Founder, Mums@Work (Singapore)
& Director, Career Navigators Singapore
" A healthy and respectful relationship between a couple is the foundation of building a strong family. Young couples may often find it challenging managing the expectations of their parents, society and even themselves. Through the Council, I hope to work with community partners to help create and improve existing resources available to young couples navigating their relationship journey."

Yuvan brings with him almost a decade of experience working in the intersections of business and government.
He currently works as a Public Policy and Government Relations manager in a technology company. Prior to this, he worked as a policy manager at EDB and had numerous roles in risk, audit and finance in Citibank.
Outside of work, he is extremely passionate in developing youth leaders. He believes youth are the leaders of today and has committed almost two decades in developing their leadership capabilities.
He continues his passion for youth leadership through his roles as a Council Member at National Youth Council (NYC), Advisory Committee Member at Youth Corps Singapore and Chairperson of SINDA Youth Club (SYC). For his commitment to youth leadership, he received the Silent Heroes Award for Most Inspiring Youth in 2018. He was also selected for the NCSS 40-Under-40 programme in 2021.
Yuvan believes that the foundation of a strong family starts during the courtship period of any couple. He advocates for the development of healthy and respectful relationships through his capacity as Council Member at Social Development Network (SDN).
Yuvan holds a Masters in Management and Bachelor of Social Sciences from Singapore Management University.
"Family is the cornerstone of our community. Family symbolizes unconditional love, support, and acceptance. When we belong to a family, we are always confident that we belong and our loves ones care. It's so important that every Singaporean enjoys this sense of belonging, for the family anchors us to the community and to our society. I am very happy to be invited to the Families for Life Council, as I see this as another opportunity for me to promote the social significance of Family."

Prof Straughan's research interests center around sociology of family and medical sociology. Her current research investigates environmental risk factors in childhood obesity. She is also the Principal Investigator of recently concluded project on Successful Ageing in Singapore, Seoul and Shanghai which involved multiple institutions and a multidisciplinary team. Professor Straughan serves as Consultant on numerous projects commissioned by various government agencies.
Amongst others, she is Principal Consultant for the Marriage and Parenthood Survey 2016 & 2012, which were commissioned by the National Population and Talent Division. She has published in both sociology and medical journals, like Social Science and Medicine, Cancer, and Cancer Causes and Control. Her books include Marriage Dissolution in Singapore: Revisiting Family Values and Ideology in Marriage, and Ultra-Low Fertility in Pacific Asia: Trends, Causes and Policy Issue (with Gavin Jones and Angelique Chan).
Professor Straughan was a Nominated Member of Parliament from 2009 to 2011, during which she argued for work-life balance and the nurture of a more pro-family social environment. Her community involvement includes serving on the Child and Youth Health Task Force, and the Infectious Disease Research Advisory Group (both at the Ministry of Health).
She is happily married to an Applied Mathematician, and they have 2 sons.
"What is a family? Even by distilling its most common elements such as marriage, child rearing, biological bonds, intimacy, mutual support, pooling of finances, and living within the same household etc, family is a concept that is multifaceted and complex. It is closely connected with our dearest hopes and aspirations, and at times, our biggest challenges and regrets. Given how family can significantly shape our lives, it is important for us to discover how love and care can pave the way for a fulfilling family life."

Tricia's research interests centre around family law, sociology of law and children. Her current research areas include how family and marriage are defined in Singapore, how family law in Singapore can best develop and how the family justice system can help families in distress. She is currently the Principal Investigator of an ongoing project on understanding attitudes towards sexual misconduct in institutes of higher learning.
Tricia combines her legal practice experience with her academic background to come up with sensitive, yet practical solutions, to family problems. She also spends her time volunteering with various committees centred on improving the lives of different groups of families in our society. She is glad for an opportunity to volunteer with
the Families for Life Council as she strongly believes in promoting resilient and healthy families in Singapore.
Tricia is happily married and does not have any children (yet).
MR TAN YAP KIN
COUNCIL MEMBER, FAMILIES FOR LIFE
Executive Director, Chinese Development
Assistance Council (CDAC)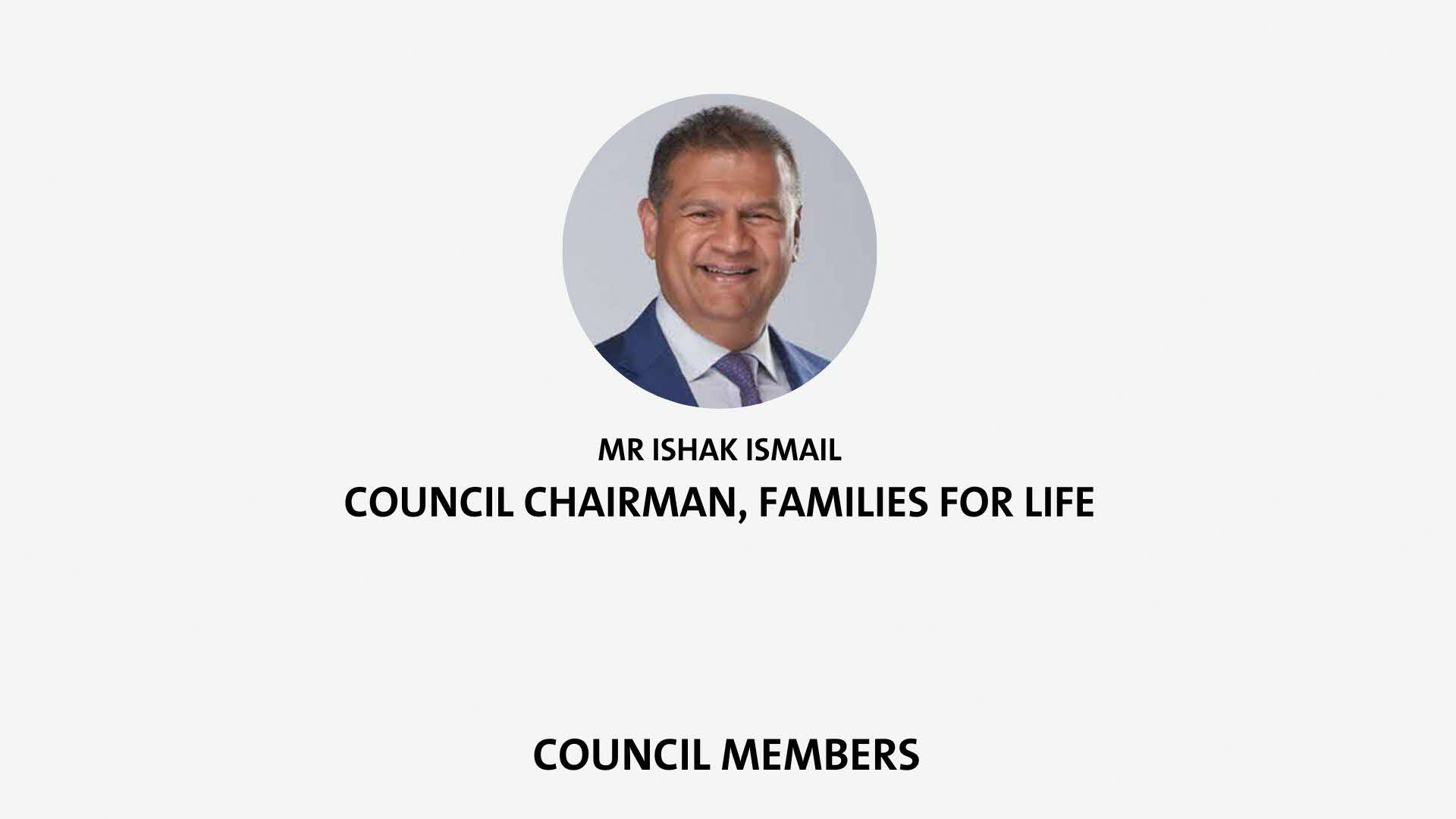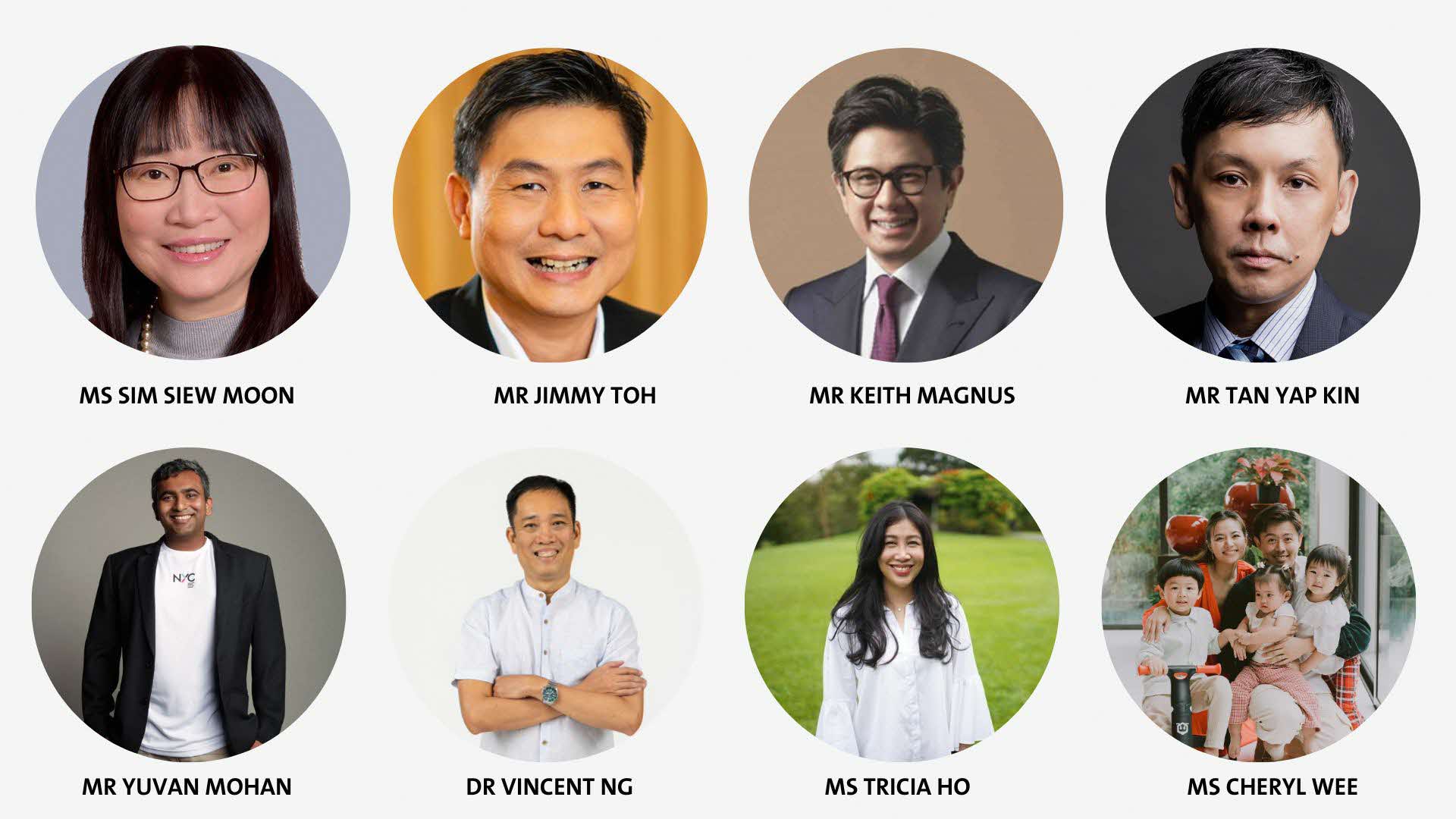 PROF PAULIN STRAUGHAN
COUNCIL MEMBER, FAMILIES FOR LIFE
Professor of Sociology (Practice)
& Dean of Students, Singapore
Management University
DR VINCENT NG
COUNCIL MEMBER, FAMILIES FOR LIFE
CEO of AMKFSC Community Services
"My family's always been vibrant and close knit, and knowing that I'll always have them as my pillars of support has been the foundation on which I've built my life. Now having a young family of my own, both Roy and I place our family as priority. As a working mum, I'm constantly trying to juggle both work and home. While my work is something I'm passionate about, my role as a mother is the most fulfilling role I've ever had and probably will ever have."

Happily married with 3 children, Cheryl is also the founder of Cheryl W Wellness & Weight Management. Cheryl used to struggle with weight and body issues due to the high beauty standards of the entertainment industry. Upon learning more about health and nutrition, Cheryl founded Cheryl W Wellness & Weight Management to help others be aware and conscious about healthy living instead of being obsessed with weight loss. She aims to promote and educate long-term lifestyle sustainable weight management solutions rather than a quick fix, as she believes that women can find confidence and be their best selves if they practise holistic wellness.
Her notable shift from ingenue to businesswoman was acknowledged when she bagged the Pulsar award at the 2018 Women Entrepreneur Awards, which celebrates the entrepreneurial spirit of women.
Apart from a successful career, Cheryl gives back to society regularly as well. She actively gives industrial talks at Polytechnics, sharing her journey of entrepreneurship where young aspiring adults can learn from the session. She is also involved with charity works like North East CDC joy box initiative, Food from the Heart, recycling projects with Project Refash.
All of this is done while balancing the needs of her family, as she believes that family will always be the most important to her.
MR JIMMY TOH
COUNCIL MEMBER, FAMILIES FOR LIFE
Chief Executive Director, People's Association
DR ELLY SABRINA BINTE ISMAIL
COUNCIL MEMBER, FAMILIES FOR LIFE
Director of Banyan Clinic Pte Ltd
& Director of Madison Academy of Music
Mr Jimmy Toh was appointed as the Chief Executive Director of the People's Association with effect from 1 January 2023. Prior to this appointment, he was the Deputy Chief of Government Communications (Operations) at the Ministry of Communications and Information (MCI). He played a vital role in coordinating the whole-of-government initiatives within MCI's Information Group and across the Government. Prior to his role at MCI, Jimmy served as Senior Director of the Prime Minister's Office-Communications Group.
Jimmy was actively involved in the MCI and Government's fight against COVID-19, marshalling the resources from the public, people, and private sectors to better inform and engage citizens in a timely fashion, putting out targeted communications across a wide range of channels to reach all segments of the population. These efforts enabled among other things the widespread adoption of safe management measures and our high vaccination rate. Above all, he helped ensure the public trusted the information shared by the Government on the disease. This was of paramount importance in a time of crisis, especially a health crisis.
Jimmy is happily married to Ishabel, with 3 children, and has been an active community volunteer.
MR KEITH MAGNUS
COUNCIL MEMBER, FAMILIES FOR LIFE
Chairman, Centre for Fathering (CFF)
MS SIM SIEW MOON
COUNCIL MEMBER, FAMILIES FOR LIFE
Head of tax, Baker Tilly Singapore
Albert now co-manages a start-up business in interior design, building and development, besides international trade business of vegetable oils and soft commodities as a broker.
From his senior management experience of the early years in the corporate sector and current businesses in the market place, he is actively promoting corporate engagement in the community with the focus on building resilient and caring families that will invariably contribute to productive business growth in companies.
He graduated with a Master degree in Counselling, and a Bachelor degree in Economics and Political Sciences, along with a post graduate Diploma in International Marketing. Albert is still passionately involved in the social service-community space coming close to 40 years of volunteer work. For this, he gets full family affirmation from his loving wife, three supportive young adult children, ages 26, 30 and 32 and two granddaughters, ages 3 yo and 1 month old.
He currently sits on 6 charity agencies to actively serve the less privileged and also he seeks to be the voice and advocate for building strong, resilient and caring families at the grassroot community.
Since 2017, he has been flaming the notion of charity agencies to intentionally collaborate with each other in a sustainable manner. The purpose is to have collective impact by their community engagements in family life development. He has formed a network of volunteers, under Family Nation Association, dedicated to restore and strengthen families with a heart to build a caring and vibrant nation.
"Families are the nucleus of our society. From a strong family, the individual is able to draw love, strength, support, establishes self esteem, and learns to love and respect each other and their elders. From strong families, our nation draws strength from individuals who are able to contribute to our communities, our social cohesiveness, and a civic consciousness of the importance of building a nation with a strong moral foundation."

Keith Magnus is chairman of Evercore's business in Asia, a senior managing director in the firm, and a member of the firm's Global Management Committee. He has built and managed investment banking business for leading international bulge bracket banks for 19 years, since 2004 when he became the youngest Singaporean in recent years to have helmed a major firm's investment banking business in a major financial centre, having been appointed Country Head of Investment Banking at age 30.
Mr. Magnus was appointed to establish Evercore's Singapore office from scratch in 2013 as its CEO.
Since his time at Evercore, the firm has been recognised numerous times as "Best Mergers & Acquisitions Adviser" in Asia and Singapore by independent publications and panels.
Mr. Magnus is married and is a father of three children aged 18, 16 and 13.
Mr. Magnus also has a heart for Singapore and the community. He currently serves as chairman of Centre for Fathering ("DADs for Life & MUMs for Life"), an organisation whose vision, executed through its various initiatives, is to turn the hearts of fathers and their children towards each other.
In December 2022, Mr. Magnus was appointed Chairman of Kallang Alive Holding Co. Pte. Ltd. and Chairman of Kallang Alive Sport Management, an entity set up to manage the Singapore Sports Hub. Mr. Magnus is a board director of Sport Singapore, co-Chairman of the Sport Cares Advisory Board and a board director of The Anglo-Chinese Schools Foundation. He also serves as director of a number of other non-profit organisations and had previously served on the board of Sentosa Development Corporation and various secondary and tertiary educational instructions. He is also a member of the Young Presidents' Organisation.
Mr. Magnus earned double degrees in economics (finance and accountancy) and laws from Monash University.


Yap Kin was an educator for over 20 years before joining the Chinese Development Assistance Council as Executive Director in Jan 2022. His work with primary and secondary children in schools previously affirms his belief that strong families are the bedrock of social progression and educational mobility for the next generation.
Yap Kin's interest is now on the influence of families on early years' development of children and social mobility.
MR ISHAK ISMAIL
COUNCIL CHAIRMAN, FAMILIES FOR LIFE
Principal Consultant for i-Grow Partners Pte Ltd
& Senior Advisor for Glamco Aviation Pte Ltd
ABOUT FAMILIES FOR LIFE COUNCIL
Sher-li Torrey is the founder & director of Mums@Work (Singapore), which was started in 2010, following the birth of her daughter. As a social enterprise that supports women, Mums@Work runs activities that empower women and support them in their work-family balance choices. A point of information source for flexi-time work or Mumpreneur business-owners, the organisation champions for greater support for women caregivers in the working world.
In 2016, Sher-li started a subsidiary of M@W, Career Navigators – with a focus on bringing women back into the workforce in full-time roles. Through this subsidiary, partnerships with more than 400 MNCs have been established.
As founder of Singapore's first flexible work career portal, Sher-li is a big advocate of Diversity & Inclusion topics, as well as Women-related issues in Singapore. She is a frequent speaker and article contributor to press and TV on women-related topics. A mother of 2 school-going children, Sher-li strongly advocates a work environment that thrives in allowing employees to have better work-family integration.
MR ALBERT LIM
COUNCIL MEMBER, FAMILIES FOR LIFE
PBM Director, SG Mecor Pte Ltd
Ms Sim Siew Moon is happily married to Mr Solomon Chung. They have five children, 3 boys and 2 girls. She retired as a Tax Partner of Ernst & Young Solutions LLP in June 2021and in January 2023, she joined Baker Tilly Singapore as their Head of Tax. She serves as Chairman on the Curriculum and Examination Development Committee at the Tax Academy of Singapore.
Ms Sim graduated from the National University of Singapore with a Bachelor of Accountancy (First Class Honors) degree. She is a Fellow Chartered Accountant of the Institute of Singapore Chartered Accountants, a Fellow Certified Public Accountant of CPA Australia and an Accredited Tax Advisor, Income Tax and GST, of the Singapore Chartered Tax Professionals.
"As a kid, I learned to spell FAMILY by remembering it as "Father And Mother I Love You". It is the love from parents to the children and vice-versa that create a conducive home. Family time is sacred time that no matter how busy we are, we must set aside time in priority. A family that eats and plays together, creates many fond memories. I hope that through my involvement in the Families for Life Council, to advocate that Family is the Heart of a Home and that Family is Forever. I hope to create more opportunities for families to celebrate love, foster stronger relationships and to create many beautiful memories with each passing year ."

Joanna is the Co-founder of The Collective Effort, a social enterprise whose mission is to create meaningful impact in the society by empowering and uplifting vulnerable or financially challenged women, children and families. She is also an Educator for the past 30 years working with children from 4 years of age to the young at heart, seniors, a profession that she holds dear to her heart till today.
Joanna has more than 25 years of experience serving the community in various capacities, such as in the Women's Health Advisory Committee of the Ministry of Health, Family & Community Council of the Advisory Council on Community Relations in Defence (ACCORD) of the Ministry of Defence, Panel of Assessors for the National Council on Problem Gambling (NCPG), Singapore Council of Women's Organisations, Business & Professional Women Association, amongst others.
She is also serving in many grassroots organisations of the People's Association. She was the Chairperson of the People's Association Women's Integration Network Council for 10 years, and now as its Patron and the Vice-Chairperson of PA Active Ageing Council. In addition, she is also a licensed solemniser appointed by the Registry of Marriages for the last 14 years and have presided over 2000 wedding solemnisations. For her dedication to community service, Joanna was conferred the National Day Public Service Medal in 2011. Joanna is happily married with a 13 year old son.
"In today's world, families are faced with personal and socio-economic issues that are increasingly complex and stressful. I am committed to working towards building greater resilience amongst families, to enable them to better tackle the challenges faced in life. My wish is for every child to receive love and guidance, for every senior to be cared for and able to live with dignity, and for every adult to be equipped with the skills needed to lead a fulfilling life. Most importantly, I hope that Singapore will develop a social safety net that ensures the vulnerable among us are never left behind."
As Chief Executive Officer of AMKFSC Community Services (AMKFSC), Dr Vincent Ng has transformed the organisation into a multi-service agency that enhances and enriches the lives of disadvantaged communities in Singapore.
Vincent has received many accolades in his more than 25 years of experience as a social work professional. He was presented with the Outstanding Social Worker Award by President Halimah Yacob in 2017 for his dedication towards supporting and uplifting vulnerable communities and, was also appointed as a Social Service Fellow by the National Council of Social Service (NCSS) in 2015, in view of his professional expertise, leadership and impact of his contributions to the sector.
On top of his responsibilities at AMKFSC, Vincent also sits on several voluntary boards and committees to provide valuable insights from the perspective of a social service practitioner. He currently chairs the Medifund Committee of National Neuroscience Institute, and serves on Social Work Accreditation and Advisory Board, National Centre for Infectious Diseases (NCID) Resilient Fund Committee, Panel of Assessors for National Council on Problem Gambling, and NCSS Leadership Selection Panel.
With a passion for promoting lifelong learning and employability, Vincent is also a member of the Social Service SkillsFuture Tripartite and serves on the School Advisory Boards for both Ngee Ann Polytechnic and Temasek Polytechnic. In 2022, he was appointed as the co-champion for the Alliance for Action on Strengthening Families by the Ministry of Social & Family Development, where he advocates for greater support of single parent families in society.
Vincent obtained his PhD in Social Work from the National University of Singapore (NUS) and holds adjunct appointments at NUS and the Singapore University of Social Sciences (SUSS). He is a firm believer that strong families are the bedrock for building a vibrant, caring, and resilient society in Singapore, and is happily married to a medical laboratory scientist. They have a teenage daughter.
MS K THANALETCHIMI
COUNCIL MEMBER, FAMILIES FOR LIFE
President, Healthcare Services Employees' Union
Chairperson, NTUC Women's Committee
& member, NTUC Central Committee
Mr Ishak Ismail is married with 2 children. He has been with Families for Life Council since 2015 and was appointed Chairman from 1 Feb 2020. Ishak also volunteers as a Member of Advisory Council on Community Relations in Defence (ACCORD) since 2012 and within ACCORD his focal area is in strengthening and recognising family support for NS.
At work, Ishak is currently Principal Consultant for i-Grow Partners Pte Ltd and also Senior Advisor to Glamco Aviation Pte Ltd. His previous experiences from 2011 to 2022 were with BAE Systems Hägglunds as Regional Director (Asia), with CWT Limited as CEO Defence Services and with ST Electronics (e-Services) Pte Ltd as Senior Vice-President/General Manager. In 2011, Ishak retired from the Singapore Armed Forces(SAF) in the rank of Brigadier-General after serving more than 29 years.
Ishak also serves as a Member of the Board of Directors for the National University Health System (NUHS) from Apr 2020 and is also the Chairman of the National Maritime Safety at Sea Council from Jun 2020.
Ishak holds a Masters in Business Administration and a Bachelors of Arts (Economics and Sociology) from the National University of Singapore. He also attained a Graduate Diploma in Leadership and Organisational Development from the Civil Service College in conjunction with MIT.
In 2008, he received the Public Administration Medal Silver (Military) for his significant contributions to the armed forces.
MR YUVAN MOHAN
COUNCIL MEMBER, FAMILIES FOR LIFE
National Youth Council member
& Chairman of SINDA Youth Club
MS CHERYL WEE
COUNCIL MEMBER, FAMILIES FOR LIFE
Entrepreneur and Family Blogger