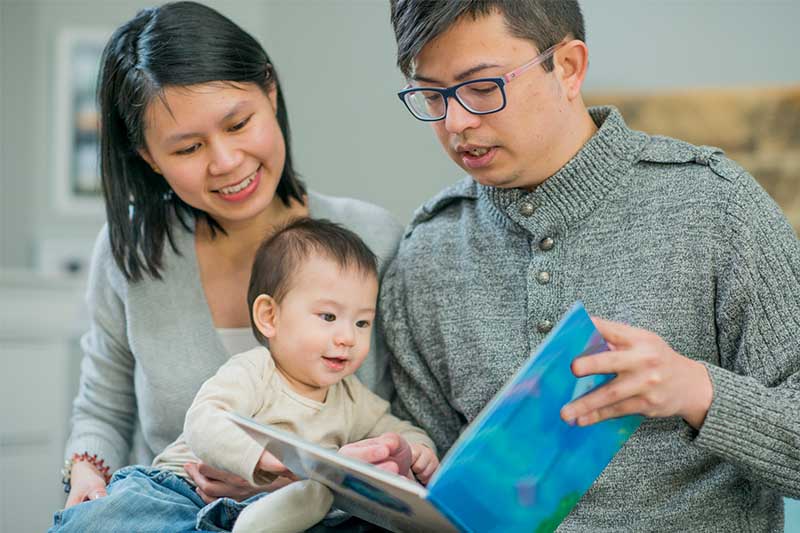 Reading aloud and sharing stories with your baby from birth is one of the most important and enjoyable things you can do. If you're not sure where or how to start, here are some ideas.

Why reading with your baby is important

Sharing stories, talking and singing helps your baby's development in lots of ways.

Doing these activities every day helps your baby get familiar with sounds, words, language and, eventually, the value and joy of books. This all builds your baby's early literacy skills and helps him go on to read successfully later in life.

Reading stories also stimulates your baby's imagination and helps her learn about the world around her. It's a great time for you to bond with your baby and share time together too.

You can start reading aloud to your baby as early as you like – the earlier the better. Our articles on reading stories with babies and children and developing literacy have more information to get you started.

Sharing books with your baby

Even young babies can learn from the experience of reading books with you. For example, you can:
name familiar and new things – this can help your baby learn about sounds and words. The more words children hear, the more words they learn

change the tone of your voice as you read – this makes it easier for your baby to pick up on different speech sounds, which is an important step towards learning to make sounds himself

read slowly and spend time on each page after you read the words – this lets your baby focus

turn the pages when you read with your baby – this shows him how to use a book.
Here are some general tips to help you make the most of reading time with your little one:
Set up a special reading space at home – for example, a chair, lounge or beanbag that's big and comfortable enough for you and baby, with a box of books or bookshelf nearby.

Make a routine, and try to share at least one book every day. For example, sharing a book can be a relaxing way to end the day.

Turn off the TV or radio, and find a quiet space so your baby can hear your voice.

Try out funny noises and sounds – play and have fun!

Hold your baby close or on your knee while you read, so she can see your face and the book.
Visit your library – it's free to join and borrow. The staff will be able to recommend age-appropriate books for you and your baby to enjoy.

What to read with your baby

There are so many books to choose from that it can be hard to know where to start.

As a broad rule, babies enjoy books that have good rhymes, rhythm and repetition. This repetition and rhyming helps children learn.

From when your baby is born, you might like to look for:
books with bright colours or simple, large and high-contrast pictures like black and white pictures – these are interesting and easy for babies to focus on

books with different textures so your baby can hear, see and feel the book

books with pictures of babies and faces

soft, waterproof plastic and cloth books that can go in your baby's mouth and into the bath.
Here are some books your baby might enjoy and you can also check the availability of these books from the National Library:
Telling stories with children

Storytelling promotes literacy and language and gets children ready to start reading. Stories about family and culture also give children a sense of their place in the world. You can use actions and rhymes to get children involved in the story.

Video: Telling stories with children

Watch this video to learn about the importance of storytelling, and how you can get your child involved in the stories that you tell.
© raisingchildren.net.au, translated and adapted with permission
Explore more