With September rolling around, it's time to seek some family fun! The school holiday week will leave the kids restless, so how about going out and letting off some steam?
Plenty is going on this month, with the Mid-Autumn Festival and Halloween coming up to provide wonderful opportunities to delight the family with tradition and fun. Also, there is a funky carnival at the glamourous Marina Bay, and a chance to make a difference and bond over sport with the SAFRA Swim For Hope event. Let's get right to it!
3 & 4 September, 12pm to 7pm
Junction 8, Lot One Shoppers' Mall, and Tampines Mall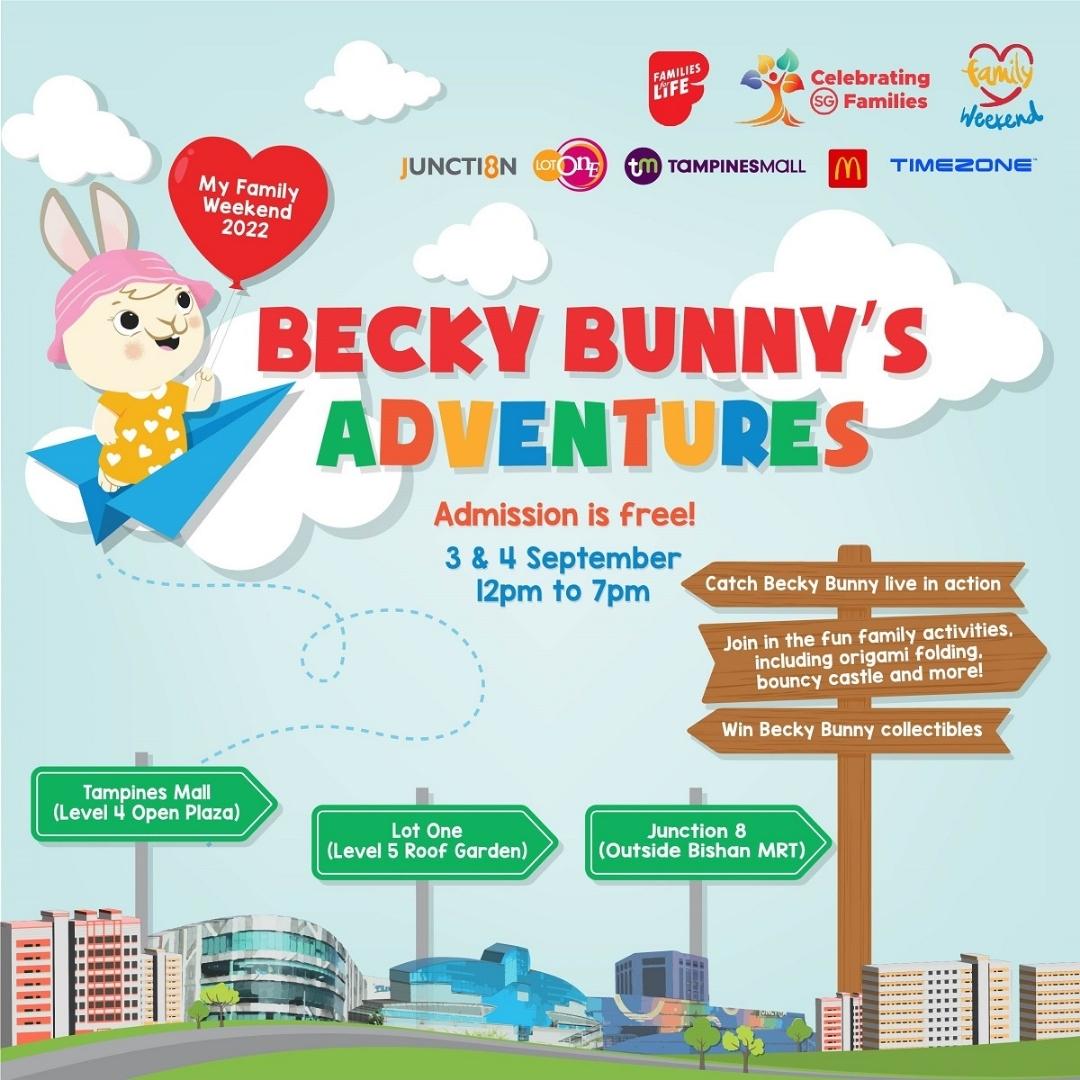 Family time continues with Becky Bunny's Adventures! Held over the weekend,join Becky Bunny on an adventure to learn about core family values – love, care and concern, commitment, and respect – through crafts and games at the different booths. At Lot One Shoppers' Mall and Tampines Mall, the adventure will end at a Secret Garden with interactive activities and a bouncy castle that will keep the kids entertained.
Families can also look foward to Becky Bunny's meet-and-greet session, and those who have completed all booth activities can redeem attractive gifts such as Becky Bunny collectibles and treats from McDonald's and Timezone.
Families can also stand a chance to win CapitaLand e-vouchers when they take part in the MFW Instagram contest!
Registrations close 18 September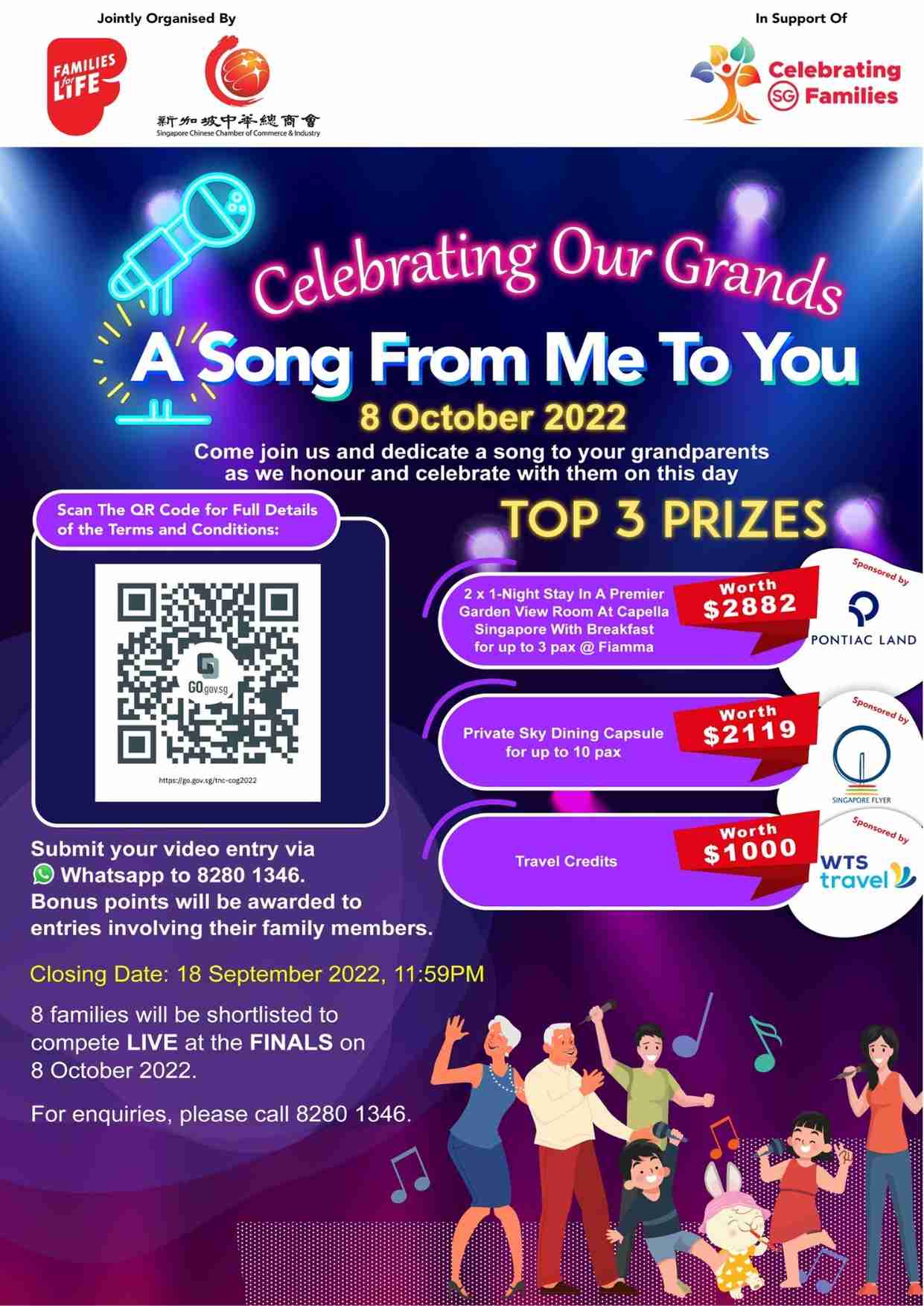 It's time to shine in our singing contest, 'Celebrating Our Grands: A Song From Me To You!' as we honour and celebrate them ✨ Up to $7000 worth of prizes to be won, including a 2D1N family staycay at Capella Hotel!
Here's how to participate:
1. Record and sing a song in English, Malay, Mandarin or Tamil & inspire your family/grandparents to join you! (You may also submit as a solo participant)
2. WhatsApp the video to 8280 1346, your video submission has to be within 3 minutes.
3. Fill in your particulars at https://go.gov.sg/asongfrommetoyou
8 shortlisted finalists will perform live on 8 Oct 2022, and every finalist will walk away with a prize each! 💖
Grand prize: Staycation at Capella Singapore - Sentosa Island, Singapore with breakfast (worth $2,882) sponsored by Pontiac Land Group
2nd prize: Private Sky Dining Capsule for 10 pax (worth $2,119) sponsored by Singapore Flyer
3rd prize: Travel credits (worth $1,000) sponsored by WTS Travel & Tours Pte Ltd What are you waiting for? Send us your entries now
Now till 25 September
Sun Yat Sen Nanyang Memorial Hall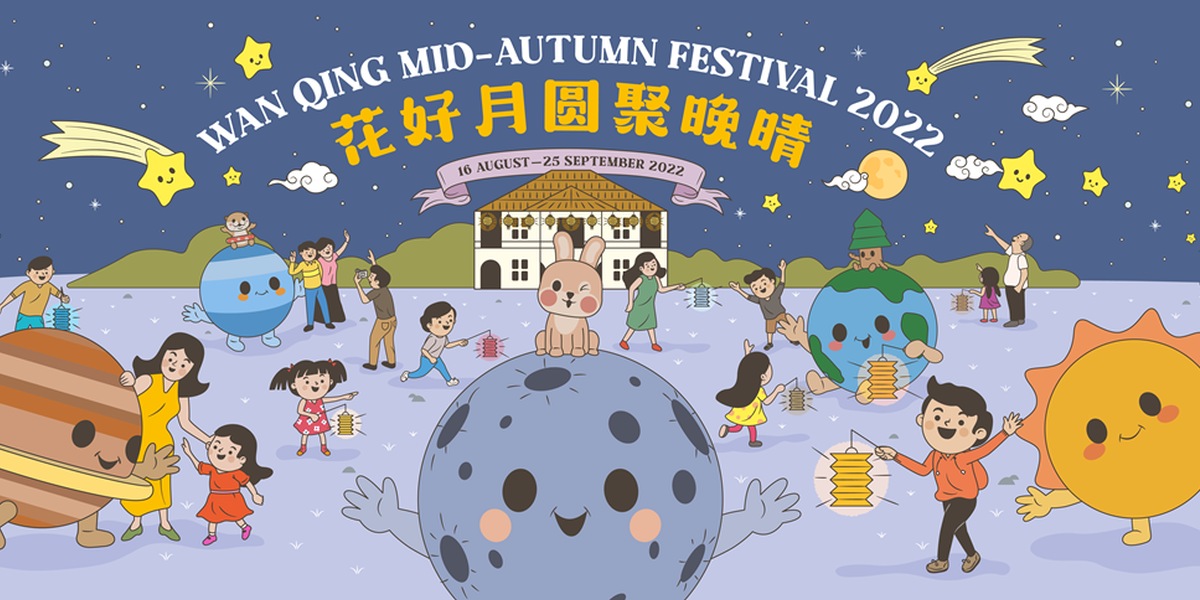 Image source: Sun Yat Sen Nanyang Memorial Hall
Celebrate the Mid-Autumn Festival with a profusion of Chinese art and heritage! There will be a myriad of activities, ranging from workshops on Chinese opera, traditional woodblock painting, live performances, and much more. This is a great opportunity to immerse the kids in traditions while giving them a roaring good time, not to mention a chance to spend an afternoon with them while learning. Don't pass up this chance for a memorable Wan Qing Mid-Autumn Festival!
9 – 11 September
Esplanade Theatres on the Bay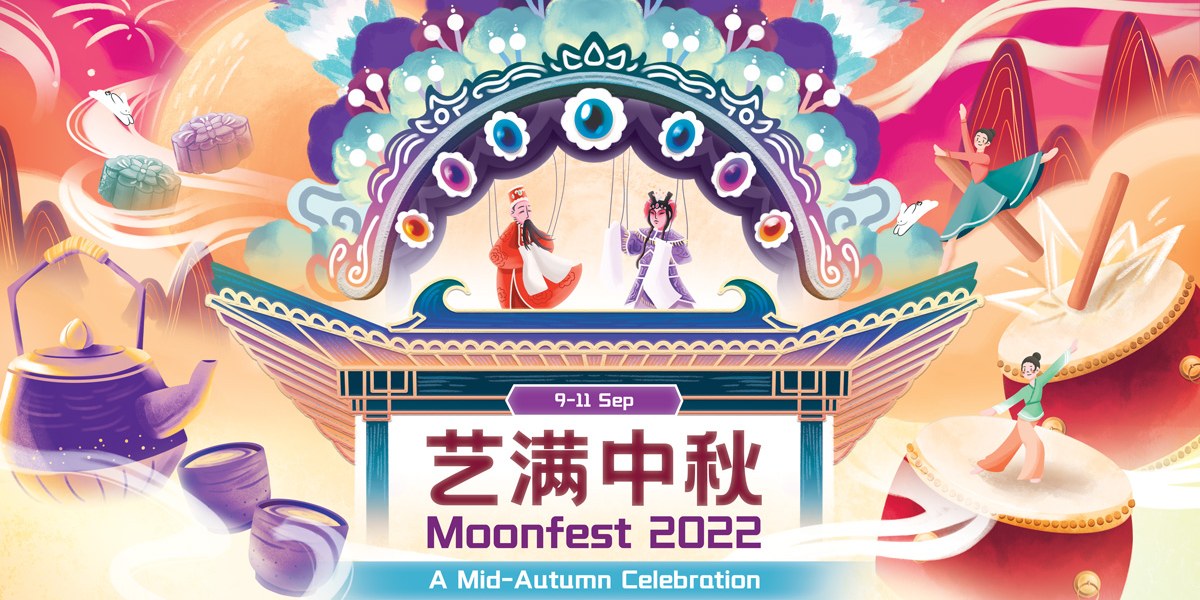 Image source: Esplanade
Not to be spoiled for choice, but here is another Mid-Autumn celebration that packs a punch! Moonfest is a three-day extravaganza of fun events such as paper lantern-making, lantern riddles, and traditional Chinese puppet shows. Get to know more about this ancient Chinese festival while bonding with your child. Nothing beats doing handicrafts or watching a performance together for some fun family memories!
5.Dive into the Deep Boo Sea
2 September – 8 November
S.E.A Aquarium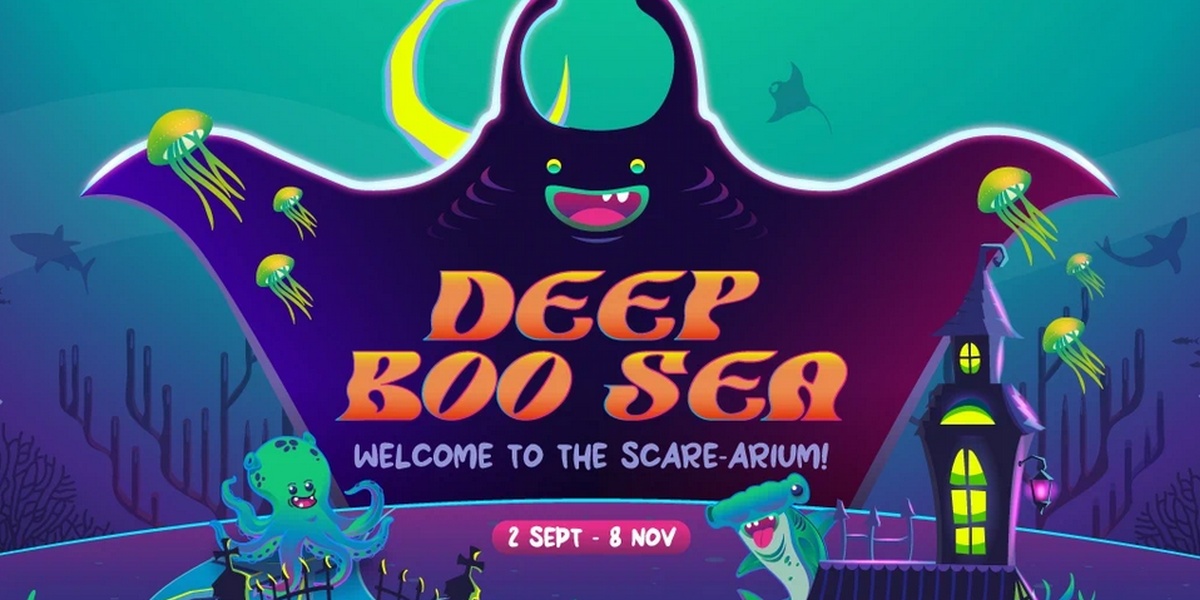 Image source: S.E.A Aquarium
Fancy a hair-raising time? The S.E.A aquarium has organised a spooktacular Halloween event where you can expect trick or treating and running into spooky mascots for photos for your social media posts. Have a blast learning about the wonders of the deep while enjoying this themed experience complete with skeleton divers for a trip well worth remembering. Enjoy some chills and thrills with your family at the Deep Boo Sea!
1 September – 30 October
Virtual/selected SAFRA clubs
Image source: SAFRA
Why not have a good time while extending a helping hand as well? Join SAFRA's Swim For Hope 2022, where various beneficiaries, including the President's Challenge and the SAF Care Fund will thank you for your contribution. Even kids under 12 can participate, so swim at your own pace and challenge yourselves for a good cause. One man's splash is another man's treasure, so come and contribute while having fun!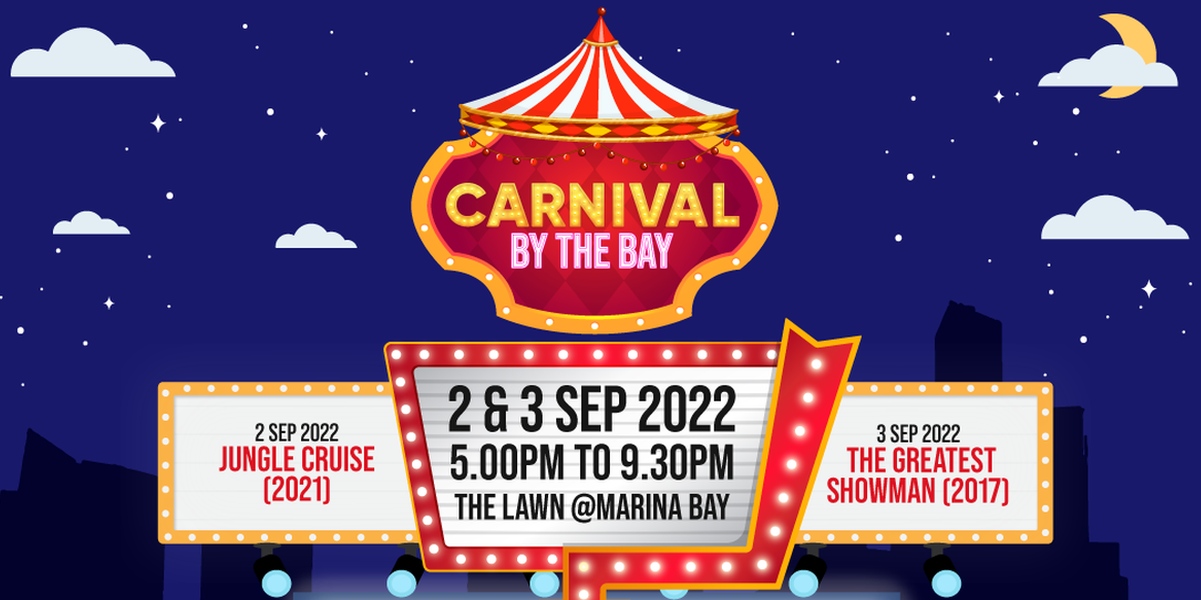 Image source: Marina Bay Alliance
2 & 3 September
The Lawn @ Marina Bay
Come for a night of food and fun at Marina Bay as the Carnival By The Bay takes off! With snacks and cool arcade games, top off the night with a movie under the stars as hits such as the Greatest Showman and Jungle Cruise are shown beneath the breath-taking skyline. Movies and food while staying up late? The kids will be delighted! Swing by for a fiesta you won't want to miss a stellar good time!